Canadian extreme industrial metal musician SCHIZOID will release the 16-song follow up to his 2000 release, All Things Are Connected, with his third full length release, The Next Extreme, to be released in September digitally (via iTunes, BandCamp) and October physically. Distribution of the album through North America will be handled by Stormingthebase.com. For Europe, Code 7 Music/Plastic Head Distribution.
Head of D-TRASH, Schizoid finally with his third full length of original material (12 years in the making), a vicious album of blackened industrial noise metal, an hour long of decimating digital punk musick acts as the catalyst for riots, self-destruction, and achieving the next extremes of the updated Schizoid sound. Firmly rooted in digital hardcore/breakcore origins, yet driven by intense black/grind metal guitars and choruses of lunatic shrieks, sounding somewhere not unlike THE BERZERKER, MINISTRY, AGORAPHOBIC NOSEBLEED, ATARI TEENAGE RIOT, THORNS, RED HARVEST.
The Next Extreme phase of things is already underway, with a limited to 300-copy 7" vinyl split with HUMAN HERD featuring the title song, as well as a full remix album based upon the title track resulting in The Next Extreme Remixes, featuring MONAD, NOT HALF, TALIXZEN, MASS HYPNOTIZED and 14 others. Schizoid has recently recruited Talixzen (aka Painguish) for live noisician duties, while Schizoid screams and now plays guitar, the band performing the album's tracklist, Schizoid having shared the stage with greats such as MERZBOW, EC8OR, FAXED HEAD, BELLADONNAKILLZ.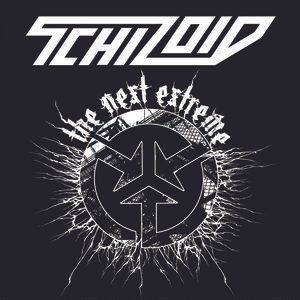 The Next Extreme tracklisting:
'The Next Extreme'
'Out Of Reach'
'Pained'
'Real Evil'
'Physical Is The Illusion'
'Nothing But The Same'
'Fret, Regret'
'Mainstream Underground'
'Another Go'
'Epitaph'
'Life Is Struggle'
'Slaviour Saves'
'Promise Of The End'
'Something To Look Forward To'
'Final Descent'
'The Last Extreme'
Watch 'The Next Extreme' video below:
A teaser for the new album can be found below: