AS I LAY DYING frontman Tim Lambesis is featured in a new video interview with Raw Cut Media. He discusses the band's forthcoming album, Awakened, an average day for himself, his other band AUSTRIAN DEATH MACHINE, and Arnold Schwarzenegger. The interviewer and Tim also battle it out in a one on one game of "Finish The Arnold Quote," and finally have to settle the score with an arm wrestling match.
As I Lay Dying are currently holed up in the Blasting Room with renowned rock producer Bill Stevenson, who's also the drummer for DESCENDENTS (and has played with BLACK FLAG); and mixer Colin Richardson. The group - Nick Hipa (guitar), Tim Lambesis (vocals), Jordan Mancino (drums), Phil Sgrosso (guitar) and Josh Gilbert (bass) - are putting the finishing touches on their new album Awakened, due out September 25th on Metal Blade.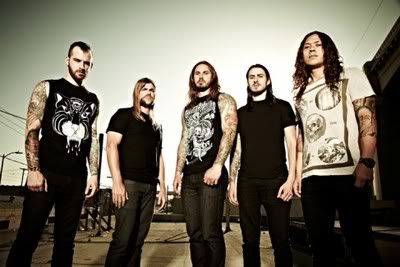 (Photo: Ty Watkins)
Awakened marks the follow-up the Decas EP (2011) which reached # 2 on the iTunes Rock Chart. The group's last LP, 2010's The Powerless Rise debuted on the Billboard Top 200 at #10. The Powerless Rise also reached #2 on Billboard's Independent Albums Chart and #3 on Billboard's Hard Music Albums Chart.
As I Lay Dying will join the fifth annual Rockstar Energy Drink Mayhem Festival, which kicks off June 30th in San Bernardino, CA. The main stage will be headlined by multi-platinum Iowa legends SLIPKNOT, with legendary metal acts SLAYER, and MOTÖRHEAD supporting. As I Lay Dying will join the main stage in rotation, alongside THE DEVIL WEARS PRADA and ASKING ALEXANDRIA. A complete list of tour dates can be found at
RockstarMayhemFest.com
.