Legendary US metal band MALICE have confirmed four new tour dates for July. The band is touring in support of their new album New Breed Of Godz. The run kicks off July 11th in West Hollywood at The Whisky and wraps up July 15th in San Marcos, CA at Jumping Turtle.
Dates include:
July
11 - West Hollywood, CA - The Whisky
13 - Oakland, CA - Metro Opera House
14 - Santa Ana, CA - Malones
15 - San Marcos, CA (San Diego) - Jumping Turtle
More dates for later this year are expected to be announced soon.
Malice released New Breed Of Godz in May through SPV/Steamhammer. Original members Jay Reynolds (guitars), Mick Zane (guitars) and Mark Behn (bass) entered the Silver Cloud Studios in Los Angeles together with new singer James Rivera (HELSTAR) and new drummer Pete Holmes (BLACK N' BLUE) to re-record eight of their classics plus four new songs. Following is an excerpt from an interview conducted by Powerline with Reynolds discussing the band's career and their comeback: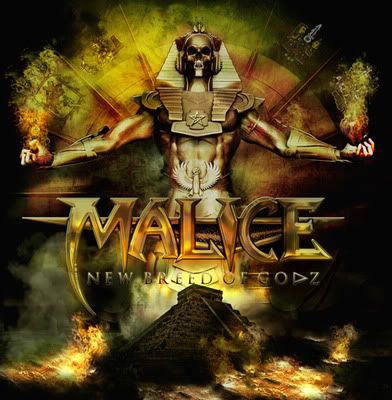 Reynolds: " If you compare us to bands like early SCORPIONS or early JUDAS PRIEST or any IRON MAIDEN, or any of that, we fit right in. I mean, we're heavier now. We've kind of notched it up to the Painkiller-type Judas Priest. We've always been compared to Priest, so … But there was a real conscious effort to heavy the band up. I think it's evident when you listen to the record. It's a much heavier direction now."
Powerline: For me, the Priest comparisons were always a positive. But do you think that hurt Malice at all?
Reynolds: "No. Back in the '80s, if you were going to be compared to anybody, Judas Priest was not a bad band to be compared to. I take it as a compliment."
Powerline: You were reminiscent to early Priest, which was even better.
Reynolds: "Absolutely. I don't think we're get it that much anymore. I don't think it will be as much of an issue as it was back in the '80s. I mean, we really have come into our own on this record. I've played the album back-to-back with some of the new stuff that's come out — the new ACCEPT, the new OVERKILL, and other new records — and our record stands up to all that stuff. It's as good as anything out there. And the band's just breathing fire live. I can't wait to get out and tour."
Powerline: Well, Malice was always good live. I mean, that was part of your game. You were a live band.
Reynolds: "And my strong belief is that you're not a band unless you get out and prove it live. We've always kicked some serious ass onstage."
Go to
this location
for the complete interview.
New Breed Of Godz tracklisting:
CD:
'New Breed Of Godz' (new song)
'Hell Rider'
'Against The Empire'
'Branded' (new song)
'Sinister Double'
'Circle Of Fire'
'Stellar Masters'
'Winds Of Death (Angel Of Light)' (new song)
'Air Attack'
'Chain Gang Woman'
'Slipping Through The Cracks' (new song)
'Godz Of Thunder'
The producer was Joe Floyd (WARRIOR) who also was involved in producing records of Bruce Dickinson and Rob Halford. The album is scheduled for a May 22nd release in the US/Canada, a May 25th release in Germany and a May 28th release in Europe. The album comes in a high class digipak with a bonus DVD:
DVD:
- rare live footage from 1987
- three live tracks from Keep It True Festival, Germany 2011
- Making of New Breed Of Godz album
DVD 9
Format: NTSC
Region Code: 0
Length: approx. 60 min
Language: english
Sound: Stereo 2.0
The band will go on tour in autumn 2012 and dates will be announced soon. Bass player Robert Cardenas (AGENT STEEL), who also recorded the new tracks in the studio, will step in for Mark Behn on the live front.
Line-up
Jay Reynolds – guitars
Mick Zane – guitars
Mark Behn – bass (played on the re-recorded songs)
Robert Cardenas – bass (played on the new songs)
James Rivera – vocals
Pete Holmes – drums