UK-based metallers ELIXIR have announced their final farewell shows, at The Bridge House, East London on Saturday, October 13th, and De Verlichte Geest, Roselare, Belgium on Saturday, October 20th. The band would like to thank their fans for the fantastic support over the years and hope to see as many as possible at their final shows to say goodbye.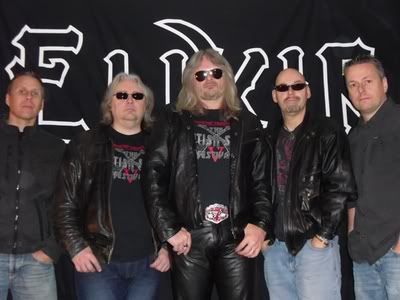 Guitarist Phil Denton states: "Since we re-formed in 2002 we have had a fantastic 10 years playing live in Greece, Germany, Holland, Sweden, Italy, Bulgaria, Norway, Spain and the USA and have received warm and enthusiastic welcomes from fans in those countries. We will miss you as much as we will miss playing together on stage. We also had the opportunity to record three more studio albums since our re-formation, and feel that our most recent, 2010's All Hallows Eve, is not a bad way to finish our recording career. I love Paul, Norman, Kevin and Nigel like brothers and will miss their talent, friendship and above all, their humour and wish them well for the future. We plan to have a good drink together and enjoy each other's company one last time when we are together for the final shows, and then plan to finish off in style by rocking hard on stage! We hope to see you there!"
On June 30th, 2011, Elixir released the 25th anniversary Edition of The Son Of Odin via the CTR label in CD format. Visit the band's official website
here
.