PRIMAL FEAR guitarist Magnus Karlsson (pictured second from the right) has checked in with the following update:
"I got a solo album deal with Frontiers Records today! I would say today is a very good day! :) Cheers!"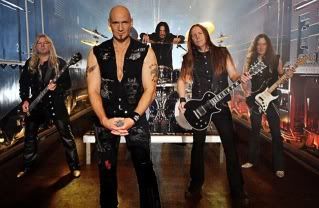 The band recently added a new festival date to their summer schedule. They will play at the Metal Mania Festival in Komen, Slovenia on July 20th.
Primal Fear's European festival schedule is now as follows:
June
23 - Dessel, Belgium - Graspop Metal Meeting
30 - Jaromer, Czech Republic - Rock Rebellion 2012
July
13 - Balingen, Germany - Bang Your Head
20 - Komen, Slovenia - Metal Mania Festival
21 - Bergamo, Italy - Municipals Festival
28 - Rotterdam, Netherlands - Roadgrill Festival
Primal Fear's latest album, Unbreakable, was produced by bassist Mat Sinner, engineered and mixed by Achim Koehler at the House Of Music studios and some more studios in Germany and Sweden between summer and fall 2011 and includes the following tracks:
'Unbreakable (Part1)'
'Strike'
'Give 'Em Hell'
'Bad Guys Wear Black'
'And There Was Silence'
'Metal Nation'
'Where Angels Die'
'Unbreakable (Part 2)'
'Marching Again'
'Born Again'
'Blaze Of Glory'
'Conviction'
'Night Of The Jumps' (Bonus Track)*
'Bad Guys Wear Black' (Video)*
* Only available in the first pressing in digipak