Vocalist SEBASTIAN BACH has checked in with the following update:
"Thank you so much UK for an awesome SOLD OUT tour. Every gig we did was packed out to the rafters and we had a blast! I smashed my head into the mike stand in London last night and now have a black eye to show for it, but hey that's rock n' roll! Today (June 16th) we play Hellfest in France! First time I have played France in well over a decade! Looking forward to the show! Allez bien Hellfest! Nous sommes Gonna Rock France d'aujourd'hui! Ne peut pas attendre pour botter le cul à Clisson!"
Bach has yet to comment on a statement issued by the band STORMZONE (found
here
, who were reportedly axed from his UK tour.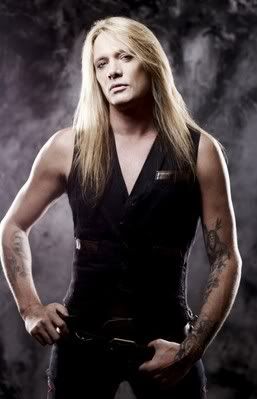 Remaining dates on Bach's tour schedule are as follows:
June
16 - Hellfest - Clisson, France
17 - Jimmy Jazz - Vitoria, Spain
19 - Caracol - Madrid, Spain
20 - Bikini - Barcelona, Spain
22 - Gods Of Metal - Milan, Italy
23 - Earshaker Day - Basel, Switzerland
24 - Graspopw/ Hatebreed - Dessel, Belgium
25 - Melkweg - Amsterdam, Netherlands
July
22 - Rock Fest - Cadott, WI
27 - Congress Theater - Chicago, IL
August
3 - OC Fair / Pacific Ampitheatre - Costa Mesa, CA
October
13 - Rock'N'Roll Fantasy Camp - Las Vegas, NV
Below is the brand new video from Bach for his new single, 'I'm Alive'. Directed by Devin DeHaven, this is the third video from his current solo album Kicking & Screaming.