Having been axed from SEBASTIAN BACH's UK/Ireland tour, Northern Ireland's STORMZONE check in with a statement, an excerpt of which follows:
"Now that we're home and the dust has settled we'd like to thank absolutely everyone for their words of support and encouragement over the last couple of days. They made a 20 hour round trip via bus and boat to London much easier to endure and although it would probably just be best to 'let it lie' we think those who took the time to wish us well deserve an isight into a day on the road which may or may not shed some light onto yesterday's developments.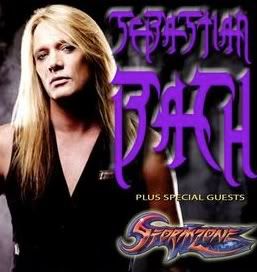 Tuesday night was fantastic, a Belfast show in front of friends and the benefit of having a great sound-man giving us everything at the venue's disposal to help our delivery and a lighting guy generous with with his effects. Both, of course, were already familiar with Stormzone so we had an advantage there. Our cramped stage conditions were no cause for concern, we were after all just the support band and grateful for any opportunity to play to a guaranteed packed house. So Tuesday was incident-free, even to the extent of being given our full agreed performance fee by the Limelight organisation. We asked them if they'd met Sebastian and the reply was 'he's a cock!'... we then said, 'ok, so you have met him then?', to which the response was... 'no, his crew told us'!
After the show we spoke briefly to the only member of Sebastian Bach's band interested in any contact with us and he (bass player Jason Christopher) congratulated us on our performance and told us he really liked us. After the show we filled in the couple of hours before heading to get the boat to Scotland by talking to a lot of people in the bar. It was just a brilliant night and no indication as to what lay ahead next day."
Read the full statement at
this location
.
Stormzone recently released the video for the track 'Zero To Rage'. Check it out below: