German power metallers GRAVE DIGGER have joined a thus far unique partnership for the metal business, with two of Germany's leading manufacturers of natural cosmetics, Esthertol and Rutano.
The band around vocalist Chris Boltendahl want to do their part helping protect the environment and to encourage their fans to do the same. These companies only produce articles which are subjected to the strict German animal protection guidelines and have refused to use animal experiments since their respective business was founded. All ingredients in their products are produced by organic farming, utilizing mainly natural raw materials.
Grave Digger will release their new album on August 31st in Europe, September 4th in North America via Napalm Records.
Vocalist Chris Boltendahl has issued an update, revealing that the album is now finished and delivered to Napalm Records. He states: "Hard work but REAL METAL! Now promotion starts and cover will be released in full at the end of the week. Tour in the works... festivals to play this summer around Europe."
Prior to the album's release, a new 6-track MCD / vinyl release will be available on July 27th in Europe, August 7th in North America. Entitled Home At Last, the MCD artwork can be seen below:
The MCD tracklisting is as follows:
'Home At Last'
'Rage Of The Savage Beast' (non-album track)
'Metal Will Never Die' (non-album track)
'Ballad Of A Hangman' (live in Wacken 2010)
'Excalibur' (live in Wacken 2010)
'Heavy Metal Breakdown' (live in Wacken 2010)
To ease the anticipatory wait for the new album, the band are posting four new pieces of the artwork and four new letters of the album title every week. The contest can be found at Grave Digger's
Facebook
page.
Check out the latest image reveal below: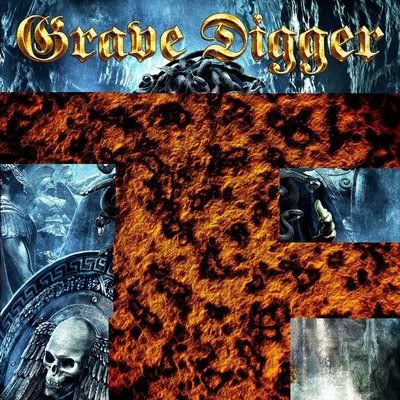 A trailer for the releases can be seen below. Stay tuned for further details.