North American fans are poised to witness a massive visit from British metal icons IRON MAIDEN. And it's another vital history lesson. The Maiden England World Tour will closely mirror, in terms of production and content, the original 1988 concert video of the same name, shot on the Seventh Son Of A Seventh Son Tour. This opening section of the World Tour is the band's most extensive visit to North America for many years and marks the third chapter in the History of Iron Maiden, a journey which began in 2004 with The Early Days DVD and subsequent 2005 Early Days Tour. Part Two followed in 2008 with the Live After Death DVD - the seminal 1984 concert recorded at Los Angeles' Long Beach Arena during the World Slavery Tour - and the band embarking on their groundbreaking Somewhere Back In Time World Tour 2008/9, which saw them play to over two million fans in almost 40 countries.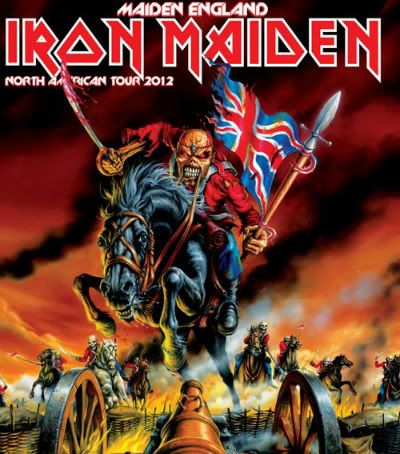 To help celebrate the Maiden England World North American Tour 2012, we are honoured with the presence of legendary Iron Maiden manager ROD SMALLWOOD who will fittingly take us on his own private history lesson as he talks about his Top Ten Iron Maiden Songs From The '80s. In no particular order, let's take a look back when Eddie ruled the '80s!
Says Rod Smallwood: "These are my favourite ten Maiden tracks, in no particular order, which have been selected from the 1980s as this is the period the Maiden England tour is covering. At the time of writing the band are rehearsing for the tour. All systems go! Here are my favourite tracks from the '80s for a variety of reasons."
Rod Smallwood's Top Ten Iron Maiden Songs From The '80s
#10: 'Prowler' (1981)
Rod Smallwood: "This is a wonderful song. I include it as one of my favourites because it's the first Iron Maiden track I ever heard. When I first got the tape, which was from Basement Studio - and which eventually became The Soundhouse Tapes - it was via a rugby mate of mine who was working with Steve Harris at the time and I was given it to listen to along the lines of: 'Rod. A mate at work has a band. Do you wanna hear the demos?' I took it home, put the tape in the deck and the first song that came up was 'Prowler'. Being a heavy rock fan in the middle of the punk rock era (I grew up listening to DEEP PURPLE, LED ZEPPELIN, THE WHO etc...) it was very refreshing to hear something with so much manic energy. The Tapes went on to be the #1 requested music at The Soundhouse, a legendary rock club in London run by a DJ called Neal Kay. So it's always going to be a memorable song in my life as it alerted me to Iron Maiden and how very different they sounded to everything else going on at that time."
Win Tickets To The Maiden England World North American Tour 2012!
To coincide with the countdown, BraveWords.com along with LiveNation Canada are giving fans the opportunity to witness metal history in person!. Tickets to each Maiden England Wold Tour stop in Canada (except Bayfest and the Ottawa Blues Fest):
July 8 - Quebec - Colisee Pepsi Arena
July 11 - Montreal - Bell Centre
July 13 -Toronto - Molson Canadian Amphitheatre
July 24 - Winnipeg - MTS Centre
July 26 - Calgary - Scotiabank Saddledome
July 27 - Edmonton - Rexall Place
July 29 - Vancouver - Pacific Coliseum
All winners will be chosen at random - email
contests@bravewords.com
with "Maiden England Across Canada" in the subject line. Contest closes July 1st.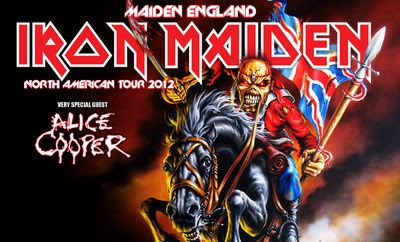 Iron Maiden's Maiden England North American Tour 2012 includes the following dates:
June
21 - Charlotte, NC - Verizon Wireless Amphitheatre
23 - Atlanta, GA - Aarons Amphitheatre
26 - Boston, MA - Comcast Center
27 - Wantagh, NY - Jones Beach
29 - Philadelphia, PI - Susquehanna Bank Center
30 - Washington, DC - Jiffy Lube Live
July
2 - Newark, NJ - Prudential Center
4 - Milwaukee, WI - Marcus Amphitheater (Summerfest)
5 - Chicago, IL - First Midwest Bank
7 - Ottawa, ON - Ottawa Blues Fest
8 - Quebec, QC - Colisee Pepsi Arena
11 - Montreal, QC - Bell Center
13 - Toronto, ON - Molson Amphitheatre
14 - Sarnia, ON - Bayfest
16 - Buffalo, NY - Darien Lake Performing Arts Center
18 - Detroit, MI - DTE Music Theatre
19 - Indianapolis, IN - Klipsch Music Centre
21 - Cadott, WI - Rock Fest 2012
24 - Winnipeg, MB - MTS Center
26 - Calgary, AB - Scotiabank Saddledome
27 - Edmonton, AB - Rexall Place
29 - Vancouver, BC - Pacific Coliseum
30 - Seattle, WA - White River Amphitheatre
August
1 - Salt Lake City, UT - USANA Amphitheatre
3 - San Francisco, CA - Shoreline Amphitheatre
4 - Sacramento, CA - Sleep Train Amphitheater
6 - Phoenix, AZ - Ashley Furniture HomeStore Pavilion
9 - Irvine, CA - Verizon Wireless Amphitheatre
10 - Irvine, CA - Verizon Wireless Amphitheatre
12 - Albuquerque, NM - Hard Rock Pavilion
13 - Denver, CO - Comfort Dental Amphitheatre
15 - San Antonio, TX - AT&T Center
17 - Dallas, TX - Gexa Energy Pavilion
18 - Houston, TX - The Woodlands
Check out a commercial for the Maiden England 2012 North American tour below: