BONZO'S BIRTHDAY BASH - A Tribute Concert To John Henry Bonham Of LED ZEPPELIN - just keeps getting bigger! More than 20 of rock's top drummers, a great opening acoustic band, a great house band, extremely charismatic guest musicians and speakers are all there ready to go. A new press release reads as follows: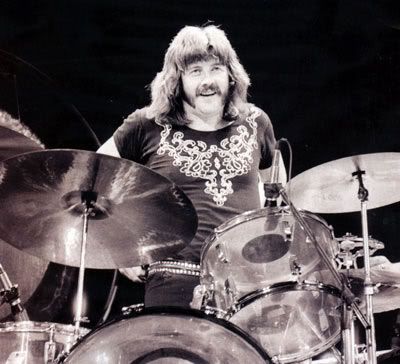 But now, on top of that, we welcome aboard POISON drummer Rikki Rockett as well as LYNCH MOB frontman Oni Logan who will both be joining in on the fun!
Also adding his thoughts and stories to the event will be SNOW drummer Stephen Quadros, aka the "Fight Professor", who is one of mixed martial arts' most respected commentators. Stephen will be speaking in between drummers as will be legendary producer/engineer Eddie Kramer, who is also showcasing his private photos of his time with Bonzo and Led Zeppelin.
Bonzo's Birthday Bash is now also offering 2 VIP packages packed with goods every Bonzo fan would live to have. The 'Whole Lotta Love' and 'Kashmir' packages are available
here
:
Singing with opening acoustic act THE CALM BEFORE THE STORE featuring guitar master Mitch Perry, ex-OZZY bassist Phil Soussan, and QUIET RIOT bassist Chuck Wright will be Chas West (BONHAM/LYNCH MOB/ THE MOBY DICKS), Shaun Williamson and Lorraine Lewis (FEMME FATALE).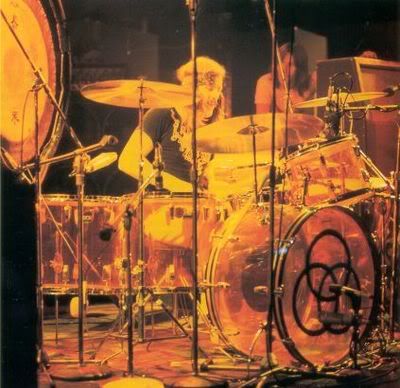 After three groundbreaking tribute shows entitled Bonzo: The Groove Remains The Same and a collective passion and respect amongst all the participating drummers, past and present to John Bonham, the greatest rock drummer ever, Brian Tichy and Joe Sutton have decided to go for it once again!      
   Tichy says: "It is a relatively simple concept. When I first thought of this, the idea seemed too cool NOT to try. You get a John Bonham replica drum set, complete with gong and timpani, up front, center stage, and have each drummer perform their favorite Led Zeppelin song with a house band (THE MOBY DICKS). There are no rules other than to have fun putting your own groove and character into your song choice! It's such a unique night, seeing how all these great drummers approach the same drum set making it their own! And The Moby Dicks hold their own as a true force to be reckoned with! We have structure, and within the structure there is total freedom, making the pace and vibe of this show somewhere between a backyard party and a.... backyard party with a killer band playing Led Zep songs! Haha!  The Groove Remains The Same has morphed into 'Bonzo's Birthday Bash', as we celebrate John Bonham's birthday!
Tichy went as far as to say, "Bonzo's Birthday Bash is now even more so the equivalent of a gong on fire on top of an erupting volcano next to a wildebeest migration complete with lurking, starving crocodiles and a fireworks finale across the river that not even the Olympics can rival!! John Bonham deserves it!  His right foot alone deserves it!! Bonzo's Birthday Bash is the ultimate tribute show and that's that! So get a ticket, get a good seat, grab a now classic "Bonzo Burger" and get into the festivities!"
Tickets available at Hob.com. Tickets are $25 and $30 day of show. Doors at 8 PM.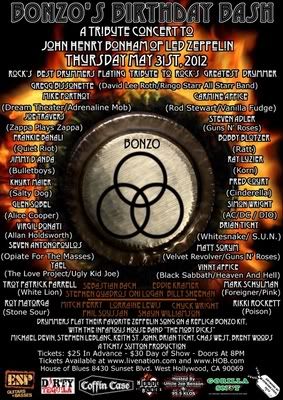 The cast of ever growing drummers and guest players starts here:
Steven Adler (GUNS 'N ROSES/ ADLER)
Seven Antonopoulos (OPIATE FOR THE MASSES/ LEAVES' EYES)
Camine Appice (ROD STEWART, VANILLA FUDGE, CACTUS)
Vinny Appice (BLACK SABBATH, DIO, HEAVEN AND HELL, KILL DEVIL HILL)
Frankie Banali (QUIET RIOT)
Gregg Bissonette (DAVID LEE ROTH, RINGO STARR ALL STARR BAND)
Bobby Blotzer (RATT)
Fred Coury (CINDERELLA)
Jimmy D'Anda (BULLETBOYS)
Ray Luzier (KORN)
Khurt Maier (SALTY DOG)
Mike Portnoy (DREAM THEATER/ ADRENALINE MOB)
Mark Schulman (FOREIGNER)
Matt Sorum (VELVET REVOLVER, GUNS N' ROSES)
Glen Sobel (ALICE COOPER)
Brian Tichy (WHITESNAKE/ S.U.N.)
Joe Travers (ZAPPA PLAYS ZAPPA)
Simon Wright (AC/DC / DIO)
Virgil Donati (ALLAN HOLDSWORTH, SEVEN THE HARDWAY)
Troy Patrick Farrell (WHITE LION)
Troy Luccketta (TESLA)
Yael (THE LOVE PROJECT, UGLY KID JOE)
Roy Mayorga: (STONE SOUR)
Rikki Rockett: (POISON)
Special Guests of Groove:
Sebastian Bach (SKID ROW)
Jeff Pilson (FOREIGNER)
Billy Sheehan (MR. BIG, NIACIN, DAVID LEE ROTH)
Eddie Kramer
Oni Logan (LYNCH MOB)
Stephen Quadros the "Fight Professor"
Lorraine Lewis
Shaun Williamson
The Moby Dicks:
Michael Devin - bass (Whitesnake)
Stephen LeBlanc - keys (JASON BONHAM'S LED ZEP EXPERIENCE)
Keith St. John - vocals (MONTROSE)
Brian Tichy - guitar, drums (S.U.N.)
Chas West- vocals (BONHAM, LYNCH MOB, ZEP SET)
Brent Woods - lead and rhythm guitars (BRENTWOOD FOREST)