An audio sample of actor Tom Cruise performing DEF LEPPARD's 'Pour Some Sugar On Me', from the upcoming film Rock Of Ages, can be streamed below, courtesy of RyanSeacrest.com.
Due to be released June 5th, ten days before the film hits theatres, the Rock Of Ages tracklisting is as follows:
'Paradise City' - Tom Cruise
'Sister Christian'/'Just Like Paradise'/'Nothin' But A Good Time' - Diego Boneta
'Juke Box Hero'/'I Love Rock 'N' Rol' - Diego Boneta
'Hit Me With Your Best Shot' - Catherine Zeta-Jones
'Waiting For A Girl Like You '- Diego Boneta
'More Than Words"/"Heaven - Diego Boneta
'Wanted Dead Or Alive' - Julianne Hough
'I Want To Know What Love Is' - Malin Akerman
'I Wanna Rock' - Diego Boneta
'Pour Some Sugar On Me' - Tom Cruise
'Harden My Heart' - Julianne Hough
'Shadows Of The Night'/'Harden My Heart' - Julianne Hough
'Here I Go Again' - Diego Boneta
'Can't Fight This Feeling' - Russell Brand
'Any Way You Want It' - Julianne Hough
'Undercover Love' - Diego Boneta
'Every Rose Has It's Thorn' - Diego Boneta
'Rock You Like A Hurricane' - Julianne Hough
'We Built This City'/'We're Not Gonna Take It' - Russell Brand
'Don't Stop Believin'' - Diego Boneta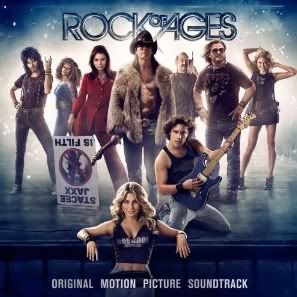 The film, set in a Los Angeles rock club and based on the Broadway musical, also stars Alec Baldwin and Mary J. Blige.
Glee's "in-house maestro of sound" Adam Anders spoke with the
Hollywood Reporter
about his latest project, being executive music producer for the Rock Of Ages film and album which sees the all-star Hollywood cast - Tom Cruise, Catherine Zeta-Jones, Russell Brand, Julianne Hough, Diego Boneta, Malin Akerman - singing some of the greatest hits of the hair band era including GUNS N' ROSES, WHITESNAKE, NIGHT RANGER, DEF LEPPARD, BON JOVI, JOURNEY, POISON, TWISTED SISTER, FOREIGNER, BON JOVI and JOAN JETT.
Here are a few excerpts from the chat:
THR: How did you approach these songs from the 80s? Were you basically trying to mimick the originals?
Adam Anders: "We wanted to be true to the originals, yet I wanted it to be even bigger. In a theater, it's like that you have a whole new arena to play these songs in. Obviously we added some of our own flavor to it, depending on who was singing it, the context, if it was live or if it was in a club. It's a little more modern sonically."
THR: Some of the actors had never been in musicals before. Like Tom Cruise, how would you rate his vocal skills on a scale of one to ten?
Anders: "Now he's like a seven, but he started off at a one. He had never sung in his life. He was like, 'I need to know that I can do this before I sign on.' So I went to his house to hear him sing and even though he was completely green as a singer, his vocal cords were amazing. He had this voice that blew me away. It was the most powerful voice I had ever heard. So loud. He could do anything and go as high as we wanted. It was like a kid discovering he had a new toy. I left there super-pumped knowing that not only could we make him pass as a singer in the movie, but we would blow people away with what he could do."
THR: What is it about these songs from 30 years ago that make them so timeless?
Anders: "There wasn't really fad-chasing as much then. It wasn't like, 'Hey let's write a radio single,' they made entire albums back then. I think of Bon Jovi's Slippery When Wet - as a kid, I would listen to that whole album nonstop. I think that's something that's gone away a bit, unfortunately. And where did the guitar solo go? As a musician, I just absolutely loved it, so I said 'We've got to keep guitar solos in this movie, please.'"
Read more at the
Hollywood Reporter
.