Dutch death metal legends ASPHYX will release their new studio album, Deathhammer, on the following dates internationally:
Germany / Austria / Switzerland / Norway: Friday, February 24th
Uk / Benelux / France / Greece / Denmark / Portugal: Monday, February 27th
North America / Spain / Italy: Tuesday, February 28th
Sweden / Finland / Hungary: Wednesday, February 29th
Australia / New Zealand: Friday, March 2nd
The band's new video, for the 'Deathhammer' track, can be seen below:
Asphyx recently announced a CD release show, on March 9th at Willemeen in Arnhem, Netherlands. The party is scheduled to begin at 7:30 PM. An event flyer can be seen below:
Asphyx also announced a Deathhammer record release show, for Saturday March 10th, at the Turock venue in Essen, Germany, where the band has previously launched their latest release and also filmed the legendary sold-out show for their Live Death Doom release.
The exact line up for the Deathhammer release show will be: Asphyx, SONNE ADAM, BLIZZARD, NECROWRETCH.
Asphyx have checked in to comment on this special show as follows: "Second time for Asphyx to do a release-show in the Turock in Essen. The first time was a huge success and we hope we can make this release-show of our new album Deathhammer just as great as the previous one. Yet again we have great support acts with Sonne Adam, Blizzard and Necrowretch to complete a night of true death metal. Remember... If you won't face death... we will!"
Given the band's reputation as intense live act, the special connection with the club's crowd, the cheap ticket pricing as we all the amazing lineup of support acts, this event promises to become a truly unforgettable night of pure death metal and a date not to be missed by real supporters of the style! A special Death Metal Night disco program will follow the completion of the live show in the venue… so grab your tickets now.
The pre-sale is available via www.konticket.de and www.eventim.de. Original hardtickets are available later this month from Yeah-Records in Essen as well as from the venue later. More details via www.turock.de
Here are the different formats for Deathhammer:
* Ltd. edition Mediabook 2CD with special bonus disc
* Standard Jewelcase CD
* Digital Download
* LP in black 180gr. vinyl (unlimited)
* LP in red 180gr. vinyl (ltd. to 300x copies, via Cyclone Empire)
* LP in red & black marbled 180gr. vinyl (ltd. to 200x copies, via High Roller)
* LP in clear 180gr. vinyl (ltd. to 250x copies, via Nuclear Blast)
* LP in grey 180gr. vinyl (ltd. to 200x copies, via the CM Webshop)
Make sure to pre-order your favourite format of the album soon. Check out several formats / offers
this location
.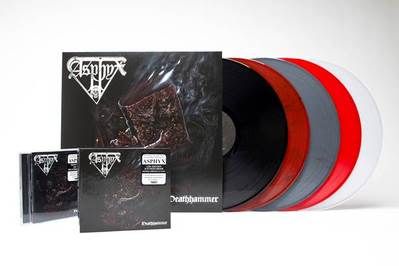 Deathhammer tracklisting:
'Into The Timewastes'
'Deathhammer'
'Minefield'
'Of Days When Blades Turned Blunt'
'Der Landser'
'Reign Of The Brute'
'The Flood'
'We Doom You To Death'
'Vespa Crabro'
'As The Magma Mammoth Rises'
The limited edition Mediabook 2CD includes a special bonus disc with the following tracklisting:
'Der Landser' (German version)
'Death The Brutal Way' (7" version, 2008)
'Os Abysmi Vel Daath' (Celtic Frost cover, 7" version, 2008)
'Bestial Vomit' (Majesty cover, 7" version, 2010)
'We Doom You To Death' (7" version, 2010)
Check out the official album trailer below:
Recorded at The Mörser Studio as well as at Harrow Studio with their longtime engineer Harry Wijering, Deathhammer was mixed and mastered in Sweden by Dan Swanö, who previously worked with the band on Death…The Brutal Way, as well as on the Live Death Doom release.
The artwork for the Deathhammer album, crafted by longtime partner in designs, Axel Hermann (MORGOTH, UNLEASHED, SAMAEL, GRAVE), can be seen below:
Check out performance footage of the title track 'Deathhammer' from the band's December 16th show at the Eindhoven Metal Meeting at Effenaar in Eindhoven, The Netherlands below: