On February 28th in North America, March 2nd in the Benelux / Germany, and March 5th in the UK and rest of Europe, Relapse Records will issue a deluxe live 2CD DEATH collection featuring two separate Death concerts, titled Vivus! A live version of the classic Leprosy-era track 'Pull The Plug' is currently streaming online at BraveWords.com - head to the left-hand-side of the site to launch the
KnuckleTracks Online Audio Player
.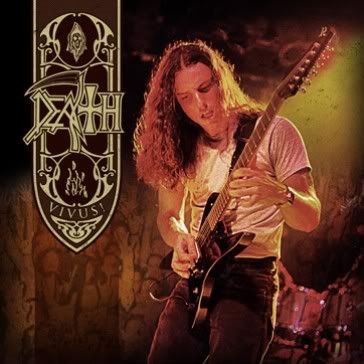 Each of the 24 songs featured on Vivus! can now be previewed on
iTunes
and the packages preordered at
Relapse.com
.
Both shows contained on Vivus! were recorded in 1998. Disc one features the band at the height of their prowess tearing the roof off of the infamous Whisky A Go Go in Los Angeles, while disc two is a brilliant recording of the band on the festival stage at Dynamo Open Air.
This collection will contain extensive liner notes from Death insiders and never-before-seen photos of the band.
Vivus! tracklisting:
Disc 1 - Live In LA – 1998
'The Philosopher'
'Spirit Crusher'
'Trapped In A Corner'
'Scavenger Of Human Sorrow'
'Crystal Mountain'
'Flesh And The Power It Holds'
'Zero Tolerance'
'Zombie Ritual'
'Suicide Machine'
'Together As One'
'Empty Words'
'Symbolic'
'Pull The Plug'
Disc 2 - Live In Eindhoven – 1998
'The Philosopher'
'Trapped in a Corner'
'Crystal Mountain'
'Suicide Machine'
'Together As One'
'Zero Tolerance'
'Lack Of Comprehension'
'Flesh and the Power It Holds'
'Flattening of Emotions'
'Spirit Crusher'
'Pull the Plug'
Pre-orders can be made at
this location
or via the Amazon links below: