For the first time ever, PIGGY D (bassist for ROB ZOMBIE) is selling three of his very own paintings on eBay. These colorful pieces of pop art were inspired by Piggy's collection of vintage Halloween masks as well as different nightmares. His paintings have never been seen before by the public, and have never been for sale. Each of the three auctions ends November 27th.
The Green Witch
and
The Pink Witch
are both acrylic on canvas, measuring 14 inches by 18 inches.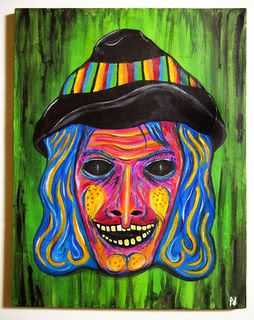 The Demon From Blue Hell
is also acrylic on canvas, but measures 24 inches by 36 inches.