Former AMERICAN IDOL contestant JAMES DURBIN will release his Wind-Up Records debut, Memories Of A Beautiful Disaster, on November 21st. It includes collaborations with MÖTLEY CRÜE's Mick Mars, James Michael (SIXX: A.M, Mötley Crüe), Marti Frederiksen (AEROSMITH, OZZY OSBOURNE) and HARDCORE SUPERSTAR.
Durbin has released a teaser preview for his upcoming music video, for the single 'Love Me Bad'. The full video will be available on November 16th. Check out the 20-second preview clip below:
Memories Of A Beautiful Disaster tracklisting:
'Higher Than Heaven'
'All I Want'
'Love In Ruins'
'Right Behind You'
'Love Me Bad'
'Deeper'
'May'
'Screaming'
'Outcast' (featuring Mick Mars)
'Everything Burns'
'Stand Up'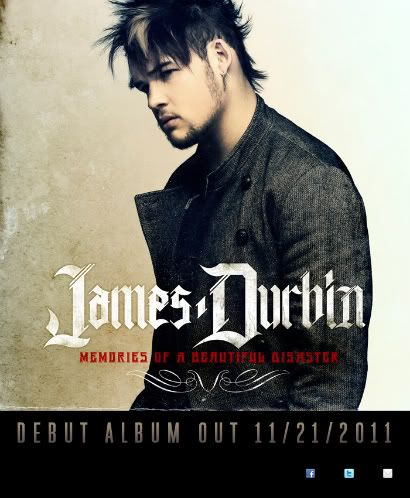 Check out the track 'Stand Up' below:
Durbin, who came in fourth on American Idol, was the season's resident rocker who had performed songs by the likes of JUDAS PRIEST, SAMMY HAGAR and 30 SECONDS TO MARS - many for the first time on the Idol stage. On the American Idol summer tour, his set included MUSE's 'Uprising' and GUNS N' ROSES' 'Sweet Child O' Mine.'
Judas Priest tells Artisan News they can't wait for Memories Of A Beautiful Disaster:
Durbin will be guest on the US nationally syndicated program Rockline, with host Bob Coburn, on Monday, November 28th. The show starts at 11:30pm EST/8:30pm PST and fans are encouraged to speak with the band by calling 1-800-344-ROCK (7625). For more information go to
this location
.
Pre-order Memories Of A Beautiful Disaster via Amazon below: