Danish thrashers HATESPHERE have announced that their new album entitled The Great Bludgeoning, will be released on the following dates around the world via Napalm Records:
September
21 - Spain, Finland, Sweden
23 - Germany, Austria , Switzerland, Benelux, Italy
26 - Rest of Europe
27 – US, Canada
The album is produced, mixed and mastered by the band's long-time friend Tue Madsen (THE HAUNTED, SICK OF IT ALL, MOONSPELL, DARK TRANQUILLITY) at Antfarm Studios in Aarhus, Denmark, and cover artwork is done by Mircea Gabriel Eftemie (SOILWORK, STRAPPING YOUNG LAD and MNEMIC) and also did the band's Ballet Of The Brute-cover.
The band commented on the new album: "We have aimed the new album in a more old-school direction than its predecessor. With people this experienced joining the band it has been a very relaxed and enjoyable process to write the songs, and we have all agreed on the concept: More metal and everything that follows. The cover, the title and the lyrics speaks for themselves. We are an angry-sounding metal band, and we have no intention of denying that. That's why the cover is more back-to-the-roots and the lyrics are again about aggressions, drinking and hate, The things that HateSphere has always been about. Expect brutality, melody and groove in just the right dose. We have had one hell of a time writing and recording it, and we can't wait to present the album to all of you before long! Within a month or so, we will have the first song snippet and video ready for you - so keep your eyes and ears open."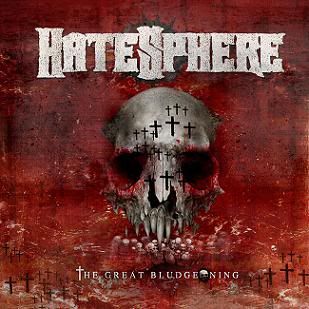 The tracklist is as follows:
'The Killer'
'Venom'
'Smell Of Death'
'Decayer'
'The Wail Of My Threnode'
'Resurrect With A Vengeance'
'The Great Bludgeoning'
'Need To Kill'
'Devil In Your Own Hell'
As previously reported, The band have posted a second exclusive vlog on the recordings. Check out both available vlogs below:
Hatesphere have also posted a gallery of photos from the studio. Check it out at
this location
. One of the shots can be seen below:
Hatesphere recently announced their new bass player, Jimmy Nedergaard (from GOB SQUAD) and a string of Danish shows with MTV Headbangers Ball Tour during September.
MTV Headbangers Ball Tour:
September
9 - Posten - Odense
10 - Voxhall - Aarhus
16 - Studenterhuset - Aalborg
17 - Fermaten - Herning
23 - Badeanstalten - Slagelse
24 - The Rock - Copenhagen
30 - Tobakken - Esbjerg
October
1 - Godset - Kolding
For further info and a complete show list, visit Hatesphere's official
Facebook page
.