METALLICA have announced they will reissue the album S&M on vinyl on May 5th on their
webstore
and on May 10th in North America.
Just like the previous releases, there will be two packages. Because S&M was originally released as a double CD, the vinyl sets will include a three disc gatefold package for the 33.3 version and a box set with six discs for the 180 gram, 45 rpm deluxe edition. All the music was half speed mastered from the original analog tapes at Bernie Grundman Mastering in Hollywood, CA.
A limited edition pressing of 500 copies of a yellow vinyl version of the deluxe box set will be available for MetClub members (make sure you log in before heading over to the store) and
here
on May 5th at 1 PM PDT.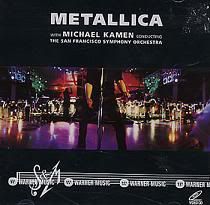 S&M tracklisting is as follows
'The Ecstasy Of Gold' (Ennio Morricone cover)
'The Call Of Ktulu'
'Master Of Puppets'
'Of Wolf And Man'
'The Thing That Should Not Be'
'Fuel'
'The Memory Remains'
'No Leaf Clover'
'Hero Of The Day'
'Devil's Dance'
'Bleeding Me'
'Nothing Else Matters'
'Until It Sleeps'
'For Whom The Bell Tolls'
'– Human'
'Wherever I May Roam'
'The Outlaw Torn'
'Sad But True'
'One'
'Enter Sandman'
'Battery'