Just weeks after leaving the hospital, 33-year-old leukemia-stricken BEHEMOTH frontman Adam "Nergal" Darski has been forced back into isolation.
"The patient was taken to hospital again because he did not take care of himself," Dr. Maria Bieniaszewska, assistant professor in the Department of Hematology at Uniwersyteckie Centrum Kliniczne (UCK) in Gdansk, told Polish site
Fakt.pl
.
It is not known whether the infection will affect the adoption of a bone marrow transplant. This procedure took place in late December and it's unclear how long Nergal will now have to stay in hospital. In his condition, when the immune system is weakened, such infections may even threaten life.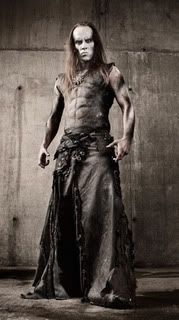 In late January Nergal issued the following statement: "Although the whole treatment went really good, as well as the bone marrow transplant and the post-transplant period, the next several months is the time when I must really take care of myself. Of course I will have plenty of time to recover, think about the strategy and my return to the stage – which approaches imminently (laughs). First of all however I must rebuild my physical condition… apart from that, I hunger for playing, I haven't been playing the guitar for a half of year now! Really much to catch up, but also a huge motivation and a desire to work again at the same time. This year will be a really important one for me and the band!"
(Photo of Nergal in the hospital courtesy of Fakt.pl)