Brummie cow-killers JUDAS PRIEST are back with a DVD package of a live Hammersmith Odeon show at which the band played at least one stormin' selection from every album from the Priest catalogue (save for the two from the Ripper era). Epitaph is its scary title, and in conjunction with the DVD release, Sony/Legacy is experimenting with showing it in theatres.
"Priest is always looking to do something new and different that we haven't been able to cover thus far," muses Metal God Rob Halford. "I can't remember exactly how this idea came about, to pull a track from every record, but in retrospect now, it makes absolute sense to have an opportunity to take a show and to really celebrate all of the great things we tried to achieve in our metal over the years. I mean, you know, even me being in the band, I get to watch it and get excited and there's a really great feeling of satisfaction and contentment, that we've been able to make all of this metal work. You go from 'Never Satisfied' all the way up to Nostradamus and everything in-between, the significant tracks, obviously. I was thinking about it, it's almost like a documentary on the band. And it's just the music. You know, I mean, it would've be interesting to maybe talk about each track—as you know, Martin, in music, dialogue has its valuable input. But at the end of the day, it's all about what's coming through those speakers, and in the DVD, looking at the guys on stage at work, and I think it's a very special moment for the band."
"We're looking forward, always looking forward," says Rob, pretty much demurring on the idea that there's much infused meaning to the word "epitaph." "There's always another metal song to write; there's always a show to make. The essence of what we're about, the drive and the passion and the determination, hasn't changed one bit. It's a great thing to be able to say at 62 (laughs). And I think that again really reinforces our true love and belief in the metal that we make. So Epitaph, I think, it's just a name at the end of the day. It's a cool name, because it is evocative. I think there's a difference between an epitaph and a tombstone. It's definitely not a tombstone (laughs). It's a marker, it's a milestone, I think in Priest's... to the point and the fact that we filmed that show at the end of the tour."
But was there not some idea publicly floated that you would cut back on touring now, after this?
"I think that it makes sense, just for lots of different reasons,"says Rob, somewhat saying no. "We're all in good shape, we're all enjoying what we're doing, we still get that rush and that energy of being out on the road. It's just a different way of doing it. This is just a way of—I think more than anything—protecting it, and making sure that every show that we do from now on has the same delivery that you see on the Epitaph DVD. It's quite ballsy really, when you think about it, to film the last show of a whole tour? I mean, it would've made more sense to have done it at the front end, if you think about it. But in typical Priest fashion, we waited until the very end, because obviously it reinforces the fact that we're still doing that thing; we're still flying the flag for British heavy metal around the world. And as far as that venue, the Hammersmith Odeon, it's part of rock 'n' roll history in the UK, and it's an intimate venue as well. We couldn't have done that at a sports arenas or whatever you call them. But to have us on stage in that special place, there was metal magic in the air that night."
Asked to contrast what new guitarist Richie Faulkner (chosen for his resemblance to Mantas, of course—in-joke), brings to the table, Rob says that, "Richie was absolutely fantastic on the Epitaph tour. He knew what he needed to do, and he also, on this tour, as we said to him, Richie, be yourself. You've got to play your parts, obviously. You can't play an unusual lead break that's already set in stone from a classic Priest song, because that would be ridiculous otherwise. But we didn't really have to tell him anything, Martin. He knew in his heart what he needed to go out and do. And he did it so well night after night, and he immediately attracted the attention and the support of the fans, and he did fantastic work, every step of the way. But Richie's a guitar player in his own world, in his own right, and it will be exciting for everybody to listen to him, what he's going to be doing on this next Priest record. I mean, we want for him to show off and throw his chops down, in the breakdown section in 'You've Got Another Thing Comin', because that was the only real time where he could kind of step out and show his virtuosity, as a metal guitar player. And you know, you could see people going, 'What the hell is this?! This guy can really, really play.' So I think our fans will be just as eager as everybody else to hear his new contributions."
As for the direction of the new album, which Rob says should "safely" be out by the end of the year... "It's just who we are, in so much as maybe just reinforcing the heavier side of Priest, in some manner. You know, it's coming along really, really well, and we feel that we've got something very special, very important to follow-up from Nostradamus. I think if we had kind of pulled the plug after Nostradamus, as far as writing, then that would have been the wrong way to complete the story. So I think that what we're doing now is important for Priest, just for ourselves, the band, and when this record is completed, I think it will be another valuable piece of metal, that is relevant to the follow-up from Nostradamus. We're working hard to make it a very, very strong heavy metal record."
"I think that's a very legitimate question," continues Halford, asked if after all these years there's Rob Halford the man but also Rob Halford the "character" that now belongs to the world, much like KISS makeup or ZZ TOP beards (yes, I said that to him). "I was watching Robert Downey Jr. on Jon Stewart last night, and Jon Stewart said, 'You realize you are Iron Man.' You know, and it's just a guy sitting there being interviewed. And Robert Downey Jr. looks into the camera and he goes, 'Yes, I am Iron Man.' And that's... you need to reinforce that. I am the fucking Metal God, you know. I know who I am, and I know what my fans want me to be. And that's important to me. I know what I want to be. I want to be The Metal God. And I believe in that, and that I think is wonderful, if you can step into that special moment, like some of the other bands you talked about. If Angus didn't go with his schoolboy outfit, his fans would be pissed off. It's the same with me—when I go on with Priest, I need to go out looking the way that I'm expected to look, and it makes me more complete as a musician, when I look that way."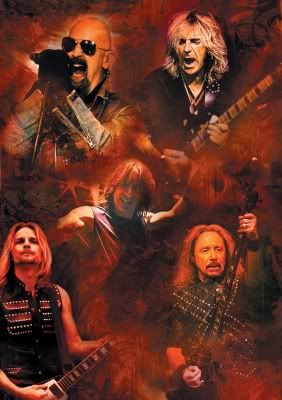 ALICE COOPER talks about psyching himself up and getting into character to go on stage. Do you do anything to get you transformed? Do you have a pre-stage ritual?
"Just getting dressed. When I'm getting dressed, I listen to metal. When I'm getting dressed, I listen to SLAYER or MAIDEN or CANNIBAL CORPSE, or any other metal band. I've always got metal playing when I'm getting dressed. And as you get dressed you feel like you're getting ready to be the person that you need to be on stage. It's very much like an ice hockey player getting dressed or a football player—the ritual of preparation is important, mentally. Because, you know, you look at yourself in the mirror, in a T-shirt and a pair of shorts, and then you look at yourself dressed head to toe in metal, and you are a different person. But I think it's very important to say, as well, Martin—not that it needs to be, but I will just to be on the record—that it isn't a character. It's a real, living, breathing thing. And that's the magic of rock 'n' roll, isn't it? That's the... I want to make the illusion, if that's not the wrong word to use. That's what music is at the end of the day—it is all fantasy, it's not real. It's sounds coming out of a speaker, and our brains processing it and digesting music the way we do. But yeah, it is very much an important aspect of the work that I do for Priest."
In closing, and further down this theme of Epitaph, I asked Rob what Judas Priest will be remembered for in the grand history of rock 'n' roll...
"Well, that's quite a profound question, and I don't think we've ever dealt with anything that deep as far as thinking about the legacy of the band. We've just been very, as I say, determined and we've had good luck and fortune; we've had our ups and downs along the way, as we've been together off and on for 40 odd years. I think you just have to listen to the music, and people make their own interpretations and form their own perceptions about the value of Priest and the contributions that we've made. I know that we've… I know that we are a special band, a unique band in the world of metal. I don't think that's too pompous to say. There's no other band out there like Priest, which I think is the way that it should be for any group. You've got to carve your own niche; you've got to try and set up your own original attitude and performance. And I think we've pretty much done that for the last 40 years in an unusual way. What other band can go from 'Turbo Lover' to 'Painkiller' and still make it work? You set out to do the best you possibly can, in your own specific way. And we've never pulled back on anything. Every one of our records has been created with the same heart and the same passion and the intent of making something good happen. After that, it's kind of in the lap of the gods."
(Note: BraveWords is giving Priest fans in Ontario the opportunity to view Epitaph in person at the Cineplex theatre at Yonge & Dundas in Toronto - click
here
for more information)