Earlier this month, DUBLIN DEATH PATROL – fronted by vocalists Chuck Billy from TESTAMENT, and Steve "Zetro" Souza, formerly of EXODUS – simultaneously released their brand new album, Death Sentence, and re-issued their 2007 independent debut, DDP 4 Life; both titles are now available via Mascot Records.
Looking back at the self-issued DDP 4 Life, which features different artwork than the Mascot re-issue, Chuck Billy reveals, "It was never actually supposed to be a record. We ended up writing some songs and thought, it would be a shame if nobody ever heard these, so we decided to make a record and put it out ourselves. On top of that, we weren't even looking to play or go anywhere, but we actually got to go over to Europe and perform (at Graspop 2011 in Dessel, Belgium). A lot of the guys had never been out of the country, or played in a festival situation. It ended up being more than we ever planned, it just happened."
The original self-issued DDP 4 Life is now a collector's item as the band only "pressed 2,000 the first time. We sold out of those and pressed another 2,000. So we sold 4,000 CDs on our own. Then we knew if we were going to give it to a label, they'd market it and distribute it better than we were doing. We were just trying to get the music out there. It all started at a class reunion; there was probably five years of classes (from Dublin High School). At the reunion Zet and Dan (Cunningham, drums) popped up saying 'we should get together and jam just for fun.' That's where it started, and then once we got together we decided to call it Dublin Death Patrol. The criteria is you have to be from Dublin, California – the city we all graduated in – to be a part of the band. It was just supposed to go as far as the rehearsal room, play some songs and have fun."
DDP is a pretty big band, boasting anywhere between seven and eleven members. Admittedly, three guitarists is not unusual, just look at ALICE COOPER, GUNS N' ROSES, LYNYRD SKYNYRD. But three bass players and two drummers is almost unheard of. "Yeah, I think we've had five or six guitarists because Phil Demmel (MACHINE HEAD) played on it, but he didn't perform live. We kind of left the door open, anybody who wants to play, come on in. My youngest brother Eddy, and John Hartsinck actually went to Europe with us; on that tour we had four guitar players. It was a little wild, but it was fun and it worked out. It was a lot of musicians who grew up in Dublin getting together. Troy Luccketta (TESLA) played some drums on the CD, but he never performed live. It was just everybody who knew each other getting together."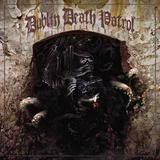 Two recording sessions – one in 2005 and one in 2011, given the fact that six years lapsed between them, how did they compare to each other? "The first one was some cover songs with some originals. The new record is all originals, so we wrote all the songs for the second record. There was a little more thought put into it, but the songs were put together pretty quick."
In the song 'Conquer And Divide' on Death Sentence, the controversial topic of assisted suicide is brought up. "I think everybody should have their own choice," states Chuck. "In Europe you can get help like that, but in America you don't seem to be able to. If you think about it, if I want to die and can't help myself… but it ain't something you're looking forward to. So yeah, I guess I am for it."
On the first album, Dublin Death Patrol pays tribute to the late SEX PISTOLS bassist Sid Vicious with the song 'Sid Vicious'. "When we were kids, it was the attitude Sid had that we admired. I think that might have been one of the first songs we ever wrote as the band RAMPAGE when we were really young. So when we got Dublin Death Patrol together, we decided that we were going to bring back some of those old Rampage songs: 'Corruption', 'Sid Vicious', 'Devil In Disguise'. We wanted to see how we could make them better, more modern."
Is there any concern that these two DDP releases will get lost in the shadow of the new Testament album, Dark Roots Of Earth? "I don't know, but the DDP records should have been out a long time ago. We finished up a year ago and signed a deal with that label (Mascot). We thought it was coming out six months ago, but they decided to wait until the Testament record came out. That's their decision, but it couldn't hurt to have it coming out while we're talking about Testament stuff."
Given Testament's hectic touring schedule, will there be time for any DDP shows? "We don't know. I'm going to be very busy with Testament. But if something comes up, the right offer… we'd probably play some bar shows, but actually trying to go to Europe and play a festival again, that would be pretty cool. We all had a good time when we went, everybody brought their wives." As far as the prospect of DDP potentially opening for Testament goes… "I don't think so, that's too much."
There's not many bands with two lead vocalists, but Chuck and Zet really work well together. The two voices are so distinct, yet they complement each other incredibly well. "Yeah, that's what was different about it. We didn't know how it was going to work? Would we harmonize together or just go for it? It ended up being, like you said, more complimenting. I don't scream like Zet and he doesn't sing like me, so we definitely carry each other's parts overall." Did Zet write the lyrics thinking, this will be Chuck's part and this will be my part? Or do you just try it different ways. "We write the song and then after that we decide who starts first? It's pretty much that easy, that simple."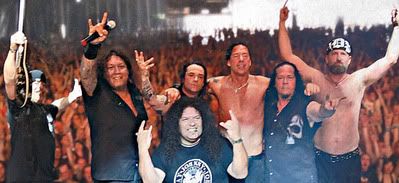 Death Sentence came to fruition "over three or four months because everybody has jobs. Whenever there was spare time on the weekend, we'd go record some pieces here and there. It wasn't a rush; we didn't just concentrate on getting it done. We took our time and let it happen."
Both DDP 4 Life and Death Sentence are great albums, but Death Sentence is slightly more vicious in nature. "Death Sentence definitely has a little more ferociousness to the songs themselves. It was new jamming with everybody, then coming into writing a second record you've got to think, what stood out on the first record? What songs were the fun ones we wrote? So of course, we keep it like that."
Visit
DublinDeathPatrol.com
for further details.