The new ATTIKA 7 project fronted by ex-BIOHAZARD vocalist Evan Seinfeld is a blistering and lyrically intelligent, yet musically innovative creation not without its hardships and struggle. The band recorded their debut LP Blood of My Enemies with legendary producer Mudrock (AVENGED SEVENFOLD, GODSMACK). Blood of My Enemies groundwork was laid by guitarist and famed (Sons Of Anarchy) motorcycle builder Rusty Coones in the confines of a federal penitentiary. It was in this unforgiving environment that he penned the material that would eventually become the band's uncompromising debut. The new Attika 7 album features songs about the trials and tribulations of life when the walls are closing in and your allies turn and run. It's also inspirational music about standing and fighting for your survival, alone! Perhaps a soundtrack for the disenfranchised, the outcast, the misfits of our society. If you've ever felt backed into a corner, Attika 7's lyrics and songs will speak directly to you. BraveWords.com correspondent Matthew O'Shaughnessy (from
WVOX.com
) sat down with Attika 7's very personable and ultra-talkative vocalist Evan Seinfeld recently who was ringing in from the sunny US state of California.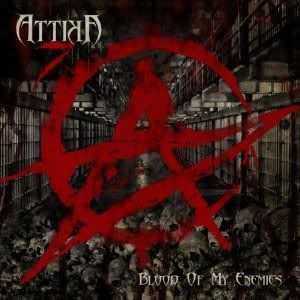 WVOX.com: I understand the genesis of Attika 7 and indeed your early days are quite unique. How did the start of Attika 7 come about?
Evan Seinfeld: "Everything that I have is born out of turmoil; I was born in East New York, New York and grew up in Canarsie. They made the movie Goodfellas about my neighbourhood. It was kind of a crazy place. A lot of problems. A lot of violence, a lot of drugs. But, also, a lot of good passionate people - hard working people. I've seen a lot of good and I've seen a lot of bad, but either way I've seen a lot. I feel like I've lived a hundred lives in some ways. The story of Attika 7 is really interesting because it's one of rebirth and it's a story of re-invention and redemption at the same time. My guitar player and best friend, Rusty Coones was serving a seven year federal prison sentence. Two years of which he was locked in solitary confinement. Being in the American injustice system, I guess, brought out his dark side and he started writing these heavy riffs and these heavy lyrics. We've been friends for some time. He was trying to get Attika 7 rolling for some time even when he was out of prison. I had just done my last Biohazard album and just decided I needed to do something more melodic and was just going to let me grow with and evolve with and I was looking for that evolution of myself. I'm the kind of person if I am not growing and actively changing, I feel like I'm falling down a hole. I like to be pushing and creating and inventing. Nothing bad per say. I wanted to do something that was going to help me grow as a singer and performer. I made a decision that I was going to make a clean break and just start something new. Nobody really expected it. And exactly twenty four hours later I get a phone call from Rusty who says, "Hey, man we just fired the singer out of our band but will you do a show or two with my band because I'm trying to get this thing going." And I said, "Yeah, well of course – you're my friend. Send me the music, send me the lyrics. And he sent me the music and I loved it right away; it reminded me a little bit of BLACK SABBATH and, you know, just straight ahead melodic metal. When I got the lyrics it reminded me of the feeling I got when I first started Biohazard. Like these gut-wrenching heartfelt lyrics written from the bottom, from the depths. For me it was my own internal agony and drug addiction and problems in my life at the time. But, these lyrics were written in prison in solitary confinement and they were fucking hardcore. They completely captured my attention. And all of a sudden, my destiny and my past became really clear and I was going to get involved with this with Rusty to make something really heavy and melodic and timeless. That was kind of the goal; to do something that was going to help me re-invent myself to make me a better singer, to make the songs as good as they can, to see Rusty's vision go from facing life in prison and maybe never getting these songs off a pad and paper – to this Summer being on the Uproar Tour with Godsmack and playing in front of thousands of people these very songs and having an album out! It's been a year and two months from when we got together. We just started building a new team; we got a manager in Adam Parsons who manages THIN LIZZY and we got a publicist in Metal Maria, and we went and got an agent here in the US and overseas; we just started building a new team. We finally solidifed a real touring lined up of people who are as excited as re-inventing themselves and being part of something. Attika 7 – Blood Of My Enemies, an incredible album to me! Right now we have Scott Reeder from KYUSS playing bass, Zach Broderick from NONPOINT playing guitar, Tommy Holt from UPO on drums and of course Rusty and myself. It's just been the most incredible year of my life working on this and we are so excited to do our album release party here in Los Angeles in the first week of October. We are also doing the the whole West Coast tour of the Uproar Tour with GODSMACK, SHINEDOWN, POD,PAPA ROACH. I couldn't ask for a better journey to be on. I'm pushing hard!"
WVOX.com: You grew up in New York and now live in California ; how do you feel the two states differ in their approach to metal?
Evan Seinfeld: "I think the New York scene has always been a little bit more pissed off. I think the West Coast scene more evolved out of punk and the New York scene out of hardcore; but both scenes ultimately came out of metal. I think bands have their alter egos; on the West Coast there's bands like Slayer and Suicidal Tendencies, etc. On the East Coast, I think there's more old school hardcore bands; growing up in New York you could go see AGNOSTIC FRONT, SICK OF IT ALL or the CROMAGS where as those bands didn't play that much on the West Coast."
WVOX.com: Who initially got you inspired to become a vocalist?
Evan Seinfeld: "My first musical memory was my parents bringing home THE DOORS 'Light My Fire'. I mean I love classic rock; BEATLES, THE ROLLING STONES, BLACK SABBATH, JIMI HENDRIX, THE WHO. But, I think when I first heard KISS I knew wanted to be a singer right away. The person who convinced me I could do it was Pete Steele. I used to roadie for CARNIVORE when I was in high school and I played in a little local band called PUBLIC ENEMY before the rap group PUBLIC ENEMY and we were a cover band that used to do IRON MAIDEN, JUDAS PRIEST, AC/DC, Black Sabbath covers. And we used to do the MÖTLEY CRÜE song 'Public Enemy Number One' and that's where we got the name for our band! We opened up a gig for the very first incarnation of Carnivore and I was just blown away by them! They were so fucking heavy and I immediately started hanging out with them and working for their band. And it really gave me the confidence to start to write my own music and form BIOHAZARD which I did in 1987."
WVOX.com: The first single from Attika 7's debut release is an awesome track titled, 'Devil's Daughter'. What are your thoughts on this particular song?
Evan Seinfeld: "Well, you know, 'Devils Daughter' was a song that came about really organically; me and Rusty just tooling around with riffs in the studio. The kind of acoustic intro was something that Rusty came up with and the heavy riffs I came up with.We kind of put them all together. I always wanted to write a song about the seduction of addiction. The song is kind of metaphorical. Devils Daughter could just be that smoking hot chick that takes you out of all sense of reason; or it could be the alchohol or cocaine that's calling your name at five o'clock in the morning that's making you crawl out the window to sell some shit to get money. But either way it's that high that you get from something outside of yourself. Whether it be sex or drugs or music. Whatever your Devil's Daughter is. I think you can kind of hear our influences in that song from TYPE O NEGATIVE, PANTERA, SLAYER to DANZIG and Black Sabbath. It's funny because it wasn't the song we weren't going to come out with first, but the record company – Rocket Science – really felt so strongly about 'Devils Daughter' and thought it had some real hard rock and heavy metal crossover appeal."
WVOX.com: It has to be very rewarding to see your hard earned efforts finally come to fruition.
Evan Seinfeld: "It is really rewarding to build something from scratch.To start with just a great idea, and some songs and make a logo, and a recording, an album cover, etc. We're enjoying the journey.So where are we headed with it? We just finished one music video for 'Serial Killer' and we are working on one for Devils Daughter right now. What's next obviously is the Uproar tour, some headlining dates. We are trying to come up with some cool packages with some bands we'd like to tour with. We were talking with the guys form KILL DEVIL HILL the other night; we love that band. We are trying to figure out exactly where our audience is. The band performed on that show Devils Ride last month on Discovery Channel. We've got a song coming out on the new season of Sons Of Anarchy – our song 'All or Nothing' which could be the next single. We'd like to tour in Europe, Japan, South America; wherever they want us to play!"
WVOX.com: What would you like hard rock and metal fans to come away with after first listening and digesting your new record, Blood Of My Enemies?
Evan Seinfeld: "Well, lyrically it's really super passionate and inspired and I think the message is that through the worst of times we can find the best in ourselves. When all odds seem against you and and when the world seems stacked up against your favor; that's the time to reach inside yourself and find out what you are really made of and have faith in your self and stick tight to the people who are really there for you. And cut the bullshit out of your life. The message is that up from the ashes you can rise. This album began in the depths of prison where there was a possibility of life with no parole for Rusty and this summer he's going to be performing these songs on the same stage as GODSMACK. Anything is possible. Musically, I think Blood Of My Enemies is like a soundtrack for turning your negative energy into a positive outlet. It's a great album to work out to, to get on your Harley and go cut it up. I think that sonically we really captured something; it's a great moment in time. Above anything, what our motivation is with the album is for people to come see the band and join our Attika 7 hellbound army!"
More on Attika 7 at on
Facebook
.