Here's a snippet of day two (Friday) of the Wacken Open Air, being held in Wacken, Germany this weekend (August 1st-4th). Yesterday was one of those rare days that thankfully we've only heard about, but haven't witnessed. It was close to the perfect storm. Actually a pair of them!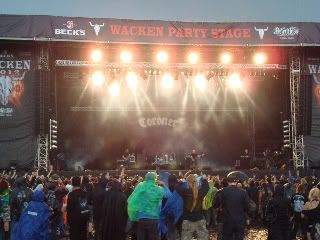 Following an American trio of sorts - OVERKILL (Blitz truly as one most charismatic frontmen EVER!), SACRED REICH (Phil Rind's presence enormous) and SANCTUARY (two new songs couldn't scuttle the reunion jitters) - the sky darkened and the ultimate light show turned into a page from Noah's Ark as the downpour turned the dry earth into a mud bowl. I will never look at two of my fave desert foods - chocolate pudding and chocolate icing - in the same light ever again! What a mess, the ultimate balancing act, almost akin to walking through winter's first major snowfall. That was the sloppy/soupy feeling. Feet/shoes/everything below the knee looking like I'd walked through tar. But when you travel thousands of miles to witness arguably the greatest festival on the planet you just deal with it. So when the brave debate whether or not we could make it to the highly-anticipated CORONER set on the far-away Party Stage was finally decided, we (myself and Bill Peters from Auburn Records/Cleveland's famed Metal On Metal radio show) ventured into the muck and blackened swimming pools not knowing if we'd return.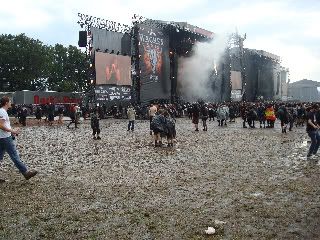 And when 'Serpent Moves' grabbed the soaking wet audience by the throat, there was no turning back. The genius that is this Swiss trio was competing with OPETH (a few hundred feet over on the Black Stage), but a couple of thousand faithful witnessed the second coming of forward-thinking perfection. If the time/place were more kind to Marquis Marky (drums), Tommy T. Baron (guitar) and Ron Royce (bass/vocals), Coroner wouldn't be just this hidden progressive metal gem. By the time the audience had succumbedpast to 'Die by My Hand' and 'Masked Jackal', all weather ills had been forgotten. So with rain coat on and bourbon in hand we soaked in the glory as the skies eventually cleared.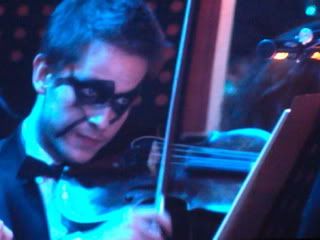 And up next was the Norwegian phenomenon DIMMU BORGIR complete with the 60-piece Czech National Symphony Orchestra. You can't make this shit up. Close to 80,000 black metal devotees enthralled in a classically-tinged spectacle. I'm truly at a loss for words as extreme metal did battle with a genre normally relegated to upper class snobbery! But upon seeing violinists/flutists/choir members etc... in formal attire WITH FACE-PAINT, you could only shake your head in awe as the band stirred the audience with renditions of 'Progenies Of The Great Apocalypse', 'The Serpentine Offering', 'Kings Of The Carnival Creation' and 'Mourning Palace'. Truly classic(al)! My muddied feet are still shaking..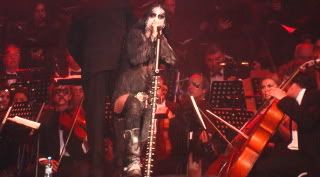 And I just peered out my window in Gluckstadt (a good 45 minutes from the festival grounds) and the rains have started again (as predicted). Go big or go home...
More soon as the SCORPIONS, TESTAMENT, MACHINE HEAD, CRADLE OF FILTH, SIX FEET UNDER, NAPALM DEATH, GAMMA RAY and AMON AMARTH close off today's adventure!