In a decade defined by excess upon excess, Appetite For Destruction stands, strung out, as the most dangerous record of the 1980s, and the enormity of that claim should not be lost on anyone. Sex, drugs and rock 'n' roll long ago became a has-been cliché, but in 1987 on the Sunset Strip in Los Angeles, each was taken to its Everest-esque peak and GUNS N' FUCKIN' ROSES took part. Fully. Though Appetite For Destruction is by no means a perfect torrent of hostility, its central and most effective quality is the authenticity of its representations: this record actually lived the manic highs and has the gutter track marks to prove it.
Released July 21, 1987, Appetite For Destruction eventually went on to sell 30 million copies worldwide with an astonishing 18 million sold in the US alone. It is Guns N' Roses' pinnacle moment, an album that is, literally, the lean and mean foil to the bloated Illusions. Appetite is an attitude-obsessed statement from a collective that was desperate to succeed and hadn't yet succumbed to the temptation of creating the self-consciously epic rock moments of 'November Rain' or the entirety of Chinese Democracy. Though Appetite is rightly considered a peak in '80s rock, its audacious impact was, ironically, not felt until more than a year after its release. Quietly debuting at number 182 at Billboard during the summer of 1987, it was only in September, 1988 that the record hit number 1, its popularity newly solidified by the success of its third single, 'Sweet Child O' Mine'.
And on that 'Sweet Child O' Mine' point, Appetite's most effective snake-charm is that the LP is upheld by its deep album tracks, as 'It's So Easy', 'Out Ta Get Me', You're Crazy', 'My Michelle', 'Think About You' and 'Rocket Queen' - while not remembered by the lite-beer sipping casual fan lazily watching Monday Night Football (that guy prefers the ridiculous 'Paradise City', Appetite's only genuine mistake) - are anthems in their own right, the Jäger and Jack dripping, boldy and raucously, off the speakers. While we're at it, let's include 'Welcome To The Jungle' and 'Mr. Brownstone' into the chemical-spiked mix too, despite their status as bonafide GN'R hits.
THE CLASH's Joe Strummer once said that a band is made up of the organic elements of each human being in the group, and it was the specific biological makeup of each man that allowed for the band's greatness. And, with no disrespect to Guns N' Roses' future lineups, Strummer could very well have been describing Appetite For Destruction. Though Axl Rose's demeanour brought the record its ugly face, it was Slash, Izzy Stradlin, Duff McKagan and Steven Adler's unique genetic components that make this record whole. Slash's Gibson-through-a-Marshall tone is especially endearing and his solos are tasteful, a stark contrast to so much that came out of the glam n' hair era.
Appetite's greatest strength might just be its unhinged confidence, its strut, attitude and swagger the product of not giving a fuck what anyone thought, everything and everyone else be damned (including MÖTLEY CRÜE, as Guns' feud with that band would become the stuff of legends). And if, as they say in professional sports, sometimes the best trades are the trades that never ended up happening, Appetite For Destruction is surely the benefactor of that logic: unbelievably, KISS' Paul Stanley was initially tapped to produce the record, but replaced by Mike Clink after Stanley insisted on changing a number of tracks. The crazy, crazy nights of the Appetite For Destruction era might have sounded like 'Crazy, Crazy Nights' and, luckily for us, fate intervened and that potential travesty never materialized.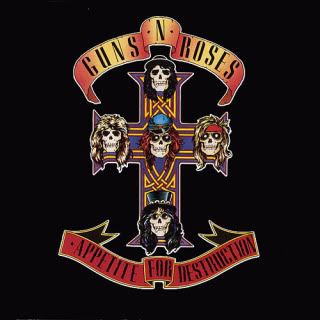 And now, Appetite is celebrating its 25th birthday. It's difficult to believe that Appetite is 25 years old, if only because it's the first record I ever bought. From the moment 'Welcome To The Jungle' and 'It's So Easy', on cassette, kicked in teeth and took names, I knew I had found some sort of bliss, even at that way too young age (on that note, a grin goes to my parents for the grace and calm they showed when their seven year old would sing along to 'It's So Easy'; my father's subsequent championing of Appetite was, in retrospect, a charming act of almost-mid-life-crisis and my mother's insistence that the record's swearing was "ok, as long as you don't copy it" was equally charming).
So, happy birthday, Appetite. It's a shame you were never properly followed up, save for the shoulda-been-on-Appetite 'You Could Be Mine'. Lightning is very rarely captured in a bottle twice, and Guns' subsequent meanderings were the result of ego-fueled megalomania, a combination that is never ripe for any sort of critical success. But, on July 21, 1987, the band released its statement of purpose to the world. And we're still listening 25 years later, knowing full well that if it's too loud, you're too old.