Ironic that only a week after the Rock Of Ages filmed opened nationally, METALLICA debuted their two-day music festival, where the band played all of their '84 album Ride The Lightning, representing some sort of a yin-yang on the '80s metal scene. Apart from guest-list snafu preventing me from photographing a sold-out Death Magnetic tour stop in Philadelphia, really had no interest in attending a Metallica concert since I last saw them, the first time around with the audience "snake pit," for the Black album! Saw every tour before that, in some cases, multiple times and witnessed a lot of great heavy metal in the intervening years, in the studio and on stages around the globe. Wasn't that I'd outgrown metal, but rather Lars and Co., by word and deed, outgrew the music, basically abandoning the genre, until Death Magnetic. Of course millions of other (non-metalheads) latched onto the band/Black album. Like OZZY and AC/DC, there are tons of Metallica fans who know nothing of metal beyond their favorite, which is one reason why the Orion Music Fest, with its variety of styles, just might work: blues, country, brass band, various forms of metal (alebit towards the noisy side), synth-pop, alternative...you name it. No classical though. Make no mistake, there weren't a whole lot of people shelling out $90 to see one of the bands going on at 1pm (although a two-day pass was "just" $150). No, the majority were there for the headliner and the auto show, movie house, etc. Some waited in football field long lines, for more than an hour, to see Kirk Hammett's collection of horror memorabilia (Kirk's Crypt, which also hosted Exorcist star Linda Blair, in her crusade against dog fighting) or the shrine to Metallica history. The four stages of continuous entertainment only served as diversions, until showtime.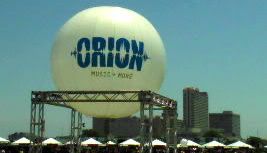 So how does Orion stack up to 13 years of European festival-going experience? Well, they lucked out with the weather, although a couple of days earlier it was almost 100 degrees (38 C) and the night before, there was a nasty thunderstorm that surely would have played havoc with the entire event. This is a first class operation, which pretty much ran on time (some issues on Sunday that saw headliners take the stage almost half an hour later than announced) and minimal sonic bleed through from one stage to the other three. Guests were allowed limited in-out privileges (to go get something to eat, return purchases to their hotel, etc.) courtesy of barcode wristbands. While there's no on-site parking, buses were hired to shuttle people between the municipal lots and the grounds. Accessible from NYC and Philly, I took the train, although don't think too many of the geriatric day-trip gamblers enjoyed my DEATH ANGEL t-shirt, probably hit too close to home! Strollers and wheelchair accessible field (thanks in part to Bader Field's old paved runways), yet few Americans walk this much all year. Water stations allowed people to re-fill plastic bottles (free of charge!) and there were a smattering of music related vendors. Still miss the Euro freedom to piss anywhere/everywhere, when nature calls, but portable toilets ringed the facility, as did food kiosks: $7 for a 12 oz can of Heiny or a 16 oz Bud, jumbo soft pretzel $8, half that for the regular size. $7 burger (fries $4 additional). T-shirts, from the lone stall ran $35, even for the vintage Metallica album designs, the same ones could be had for half that on the boardwalk, And everyone in this predominately 30-50 aged crowd (some with their entire family) seemed to get along. Didn't witness a single fight, nor puking incident (the scavenging sea gulls would have loved that! There were people strolling the grounds throughout, pre-emptively picking up litter, so that the hordes of birds didn't have anything to investigate. Nice move!)  
Great attention to detail was afforded those reporting on the event too and shockingly, it was almost all domestic media, mostly FM radio affiliates, from Baltimore to central Jersey (doing nothing more than a remote they'd do from a car dealership, any other weekend) and mainstream press. God I'd forgotten how much sycophantic glad-handing goes on in "real entertainment" circles, to say nothing of those talking heads' interviews: "So how's the crowd?" "What other bands are you most interested in seeing?" Geez! Wi-fi hook-ups and rechargers were plentiful. There even was free pizza/burritos and after 5 pm,beer! Thanks. A scan of the band line-up proves Orion is NOT a metal festival, despite the presence (albeit predominately on the second day) of a few metal acts. With the films, custom cars, stunts on land and surf demo at the nearby beach water, it's sort of a country fair, music fest all rolled into one, minus the blue ribbon vegetable stalls, amusement rides and animals (at least of the four-legged variety). Games of chance are available in the nearby casinos.  
There was a certain Emperor's New Clothes aspect to the talent. Arty, pretentious, head-up-your-ass flight of fancy is precisely how you get Load/Re-Load and Lulu. Call me a dinosaur, that's OK. People are still interested in dinosaurs 100 million years after there gone, which is a lot more level of interest than some of these trendy acts will ever see. If they're not already disbanded by next year's festival. Speaking of which, if this is to be, as is planned, an annual event, the organization will have to start booking acts in earnest, NOW! The long established European festival season is already in full swing (and they book at least a year in advance!), so vying for acts to play one show, at the expense of European tour stops between weekend festivals, will be a tough sell. Hell, they can afford to make it worth the bands while, but from a business model that didn't (apparently) throw much money at artists this year, seems unlikely (feel like someone called up each label and asked, "Who do you have to play June 23rd/24th?" and whomever they mentioned, got the gig). Lars, since you admit to not following much metal these days, give me a call, I'll help out as a (paid) consultant on underground metal talent. You have an opportunity here (obligation?), to help out the 30-40 something metalheads who made you what you are (rich), don't go to many shows these days, and/or complain about the lack of good (meaning, sound like something they'd like) new bands. I know you're into causes, because there was info on environmental issues at one kiosk and signs/volunteers getting everyone to recycle bottles/cans. Hey, GHOST was right on the money and I'm sure if health issues didn't prevent signing on, KING DIAMOND would have been there too (maybe next year)! Try offering North American exclusives to underground acts like BLAZE (the Japanese band) who sound like the MICHAEL SCHENKER inspired riffs you grew up on, or VANDENBUYST, a similarly retro Dutch act. Since someone in the organized seemed enamored with slow, powerful, sludgey material (judging from several of this year's inclusions), so why not a bigger name, like GRAND MAGUS? As mentioned earlier, you'll have to do your homework, to secure them before they make commitments overseas.  
By 1pm Saturday, could tell all the motorized vehicles whizzing across the tarmac were going to be an issue, once darkness and/or the drunks fell. There were mobile mini-EMT stations, endless golf carts carrying artists/VIPs to and from various stages, others transported support staff or trash removal. Then there were the various law enforcement agencies, including (but not limited to) Atlantic City police, NJ state troopers (on ATVs). At 1pm Metallica's drum appeared on the massive main stage (dubbed Orion), to say "Good Morning" and introduce BARONESS. Throughout the weekend, the members of Metallica served as emcees for some of their personal favorites (rumor has it, that's how the line-up came together, each picked some of their own faves: hence the clash of styles). As the Barons unleashed a wall of feedback (that otherwise belied their trippy catalog), they seemed to be testing out the sound system (although the stage hands apparently forgot to double-check the mics). At the opposite end of the field BLACK TUSK were pounding out an aural quagmire. Despite several hundred onlookers, could count the hands aloft at any time, for both, on one hand! Orion would be well served to take a cue from Europeans and get some recognizable (ie. named) talent onstage early, to get people though the doors. While there was anticipation the first day, on Sunday, the bands were playing to just handfuls of (largely inattentive) people. You could have three farting grannies onstage and people would watch it, 1) because Metallica endorsed it, 2) they'd paid their money and had time to kill, so might as well check it out 3) at least for the main stage, they were camped out, waiting for six hours until their heroes came on. Media people "had" to pick up credentials before 2:30, "guaranteeing" they'd see a large portion of the undercard, but could help out the paying customers too.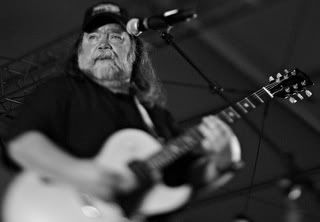 At 2pm, THE SWORD christened the Fuel stage, introed by Tallic bassist Robert Trujillo, admitting one song off Beyond Magnetic was inspired by their former opening act. While the foursome was basically static onstage, they did a fine job recreating Ozzy-era BLACK SABBATH, in the form of 'Hammer Of Heaven' and picking up the pace, 'Tres Brujas', as kids started crowd surfing and throwing themselves over the barricade. Under the tented Frantic stage, grey beard and prominent beer bellied ROKY ERIKSON looked like many in the crowd. Cool to hear the sextet, with a trio of guitars, playing an odd collection of '50s style rock n roll, mixed with folk overtones. Certainly a change of pace, they offered up 'Goodbye Sweet Dreams' and 'Night Of The Vampire' early on. Four guys in the band wore sunglasses, only Roky and his female keyboardist were sans shades. All the bands got at least 45 minutes onstage, may were allotted an hour, with as much as 30 minutes overlapping with a competing act somewhere else on the massive airport grounds. Over on the main stage, LUCERO were an unexpected joy. Looking like a bunch of good old boy truck drivers, tattooed and wearing worn-out baseball caps, it was a hillbilly, honky-tonk stomp, complete with electric piano, lap steel, trumpet, even an accordion! There was a woman at the side of the stage "signing" the lyrics (yes, using sign language, like the little oval on TV before close captioning)!  
It was only 4pm and with the exception of SUICIDAL TENDENCIES and, of course Metallica, there wasn't much on my agenda, so off to hear some comedy. Eddie Trunk's (conspicuously absent) two henchmen from That Metal Show, were each afforded a half hour, around Jim Breuer's musical/comedy hour. Much of it was insult banter or metal oriented fare, favorite joke came from Don Jamieson. Upon seeing a TWISTED SISTER album, he thought, "These are either the ugliest girls from New York, or the prettiest girls from Jersey!" Watched hefty portions of all their sets before checking out CAGE THE ELEPHANT. Mistake! Was it worth it, to hear Ride The Lightning (again)? Yes, but... opening with a RAGE AGAINST THE MACHINE inspired 'Back Against The Wall', then later some revved up RAMONES knock-off, didn't see the point. No better over at the Frantic stage, where Lars introduced the HOT SNAKES, saying, "A friend turned me on to them and for the last year, they've been my soundtrack." Another fly by the seat of the pants booking decision. OK, they're multi-millionaires and can afford it, but I refer to earlier about securing exclusive cool/cutting edge/underground cred.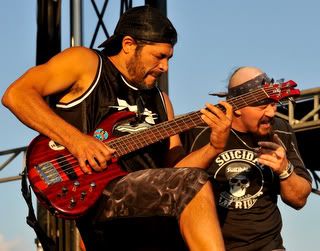 No coincidence that Trujillo introduced SUICIDAL, admitting, it was the reason he was "here" (ie, in Metallica). No spring chicken, Cyco Mike Muir showed all the shoegazers how to rock, his band moving around more than probably all the previous ones combined, some half his age. Didn't hurt they came out swinging, with some of their strongest material, 'You Can't Bring Me Down', 'Institutionalized' up second (!), 'War Inside My Head' and the old MTV video 'Possessed To Skate', one of the earliest true crossover tunes. Trujillo then strapped on the bass to re-live a trio of INFECTIOUS GROOVES songs: 'These Freaks Are Here To Party', 'Violent & Funky' and 'Therapy'. Sadly, more people were into this portion of the show (because of the Metallica connection) than 'Institutionalized', or even 'Possessed To Skate'. Come on? Enough said! Throughout the weekend Muir was friendly, posing for fan photos as he was walking through the crowd.  
Most obscure band t-shirt of the weekend, probably MAMAS BOYS (the NWOBHM wannabes), although anyone in KORN attire should have been barred from entry, on sight and a collared shirt, buttoned to the top, ain't cool, no matter how you strut. ARCTIC MONKEYS and to a lesser extent AVENGED SEVENFOLD on Sunday, learned that the last band on before Metallica sounds like a great opportunity, until you realize everyone's getting in place in front of the main stage, rather than watch your band. So on to the main attraction. The giant stage featured two catwalks into the crowd, in the shape of a V. Luckiest individuals could stand at the front of the stage, inside the opening of the V, thus surrounded by Metallica in each direction. A pair of massive electronic jumbotron boards flank the stage, offering close ups of the otherwise peanut-sized occupants onboard. Yet another board, nearly 3-times the size of the others, is atop the two-level stage. Lars' kit is on the first floor, a ring atop the backline amplification offered Jame Hetfield not only a great view of the Atlantic City skyline (as shown from his perspective, onscreen), but additional places to sing. AC/DC's 'Long Way To The Top (If You Want To Rock N Roll') signals the show will start and with that, cannon fire and a scene from The Good, The Bad & The Ugly, starring Clint Eastwood, is shown overhead, as familiar 'The Ecstasy Of Gold' intro begins.  
'Hit The Lights' as opener, gets the old-school blood flowing, as a close-up of Lars reveals a moped rearview mirror affixed to his kit. James is in leather vest, covered with patches, no shirt. 'Master Of Puppets' up next, damn they just might pull off this evening yet! 'The Four Horsemen', can never be too much first album stuff for my liking. Looking through binoculars, the ATV mounted troopers are poised to ride into the sea of humanity at the first sign of trouble. Do the words "General Custer" or "Little Big Horn" mean anything to you, officer? Watching the television monitors, one has to wonder, "Where's Robert?" The bass player was nearly absent on screen during the first trio of songs. Hetfield asks, "Do you want heavy?" to which we're treated 'Sad But True' (ironic, eh?). Now here's the first rub of the set. If you're going to play the entire Black album tomorrow (many of these people are here for both nights), why air three of them now? OK, they are big hits, but would have preferred dispensing with a couple, in favor of something else. Kirk Hammett ventures is the first to venture onto one of the catwalks. The song leads into a short Trujillo solo spot and then 'Hell And Back', a Beyond Magnetic tune and the only inclusion recorded in the last twenty years!  
The stage goes black and a montage of images and spoken audio, from the Eighties (none of my stuff), greets fog shrouded stage and mock lightning to introduce the backwards run-through of their second album. This massive stage and sound is what we knew, all those years ago, they deserved, F that Ozzy opening slot! For this portion of the show, James put on a sleeveless black shirt, re-emerging as the instrumental 'Call Of Ktulu' sees all the musicians giving their all. When it came time for the previously never played 'Escape', Lars and James look at each other, saying 'it's a song we never wanted to play live. Are there any others we've never played?' Cue knowing shouts from the audience, as the life-long friend knowing laugh together. It bears the question: why not perform something for your fans, before waiting 25 years? 'Trapped Under Ice' sort of lost some urgency, once they exited the clubs, as it gives Hammett a chance to solo. Alone, atop the balcony that rings the stage, Hetfield begins 'Fade To Black', while below Hammett strums an acoustic guitar. Trujillo got plenty of face time during 'For Whom The Bell Tolls', as Hammett pulls out the Dracula guitar, going heavy on the whammy bar. Again struck how pedestrian some of the tempos are, considering it was once cutting edge metal. Upon the guitar attack of the title track and 'Fight Fire With Fire', it was back to Black for 'Nothing Else Matters' and 'Enter Sandman', which close the proper set. Honestly, anti-climatic after the experiencing the whole of Lightning.  
For the encore, 'Battery' certainly fits the bill, with flames shooting from the top of the lighting rig and as much as it might not work (stylistically) on paper, 'One' comes across strongly, thanks to a full scale war re-enactment (fireworks, smoke/flash bombs situated through the crowd! During the mellow build up, scores of red lasers shot forward, over the crowd, as the band was barely visible. As it builds, white/green lasers join the fray, as well as seizure inducing strobe display. A little bit of a teasing pause prior to 'Seek & Destroy', where Hetfield mentioned Cliff Burton. As the guitars start to chug, stage hands produce a couple dozen oversized, black balloons, which are tossed into (and around) the crowd. To conclude the evening, there's more onstage and free standing flame throwers. The final two close the second night as well. Thankfully, there were no cover tunes, nor special guests. At the conclusion, Hetfield seemed almost relieved that it was over, thanking his bandmates and fans alike, to send them on their way, until day 2.  
Sunday got off to a slow start. If there were a couple thousand on the grounds upon my arrival on Saturday, 24 hours later, it was just a couple hundred, most of whom took advantage of shorter lines to get into the museum and/or the tent with Kirk's collectibles. LITURGY was just two guys with guitars (no live bass/drums) and a third behind a bunker of synthesizers/effects. The sound? Death metal screams atop full bore rocket engine testing, punctuated by the odd keyboard. Come back HELLHAMMER, all is forgiven! Could only take so much, so it was on to see A PLACE TO BURY STRANGERS. Despite the name, this three piece reincarnate the feedback laden clutter of BLUE CHEER and MC5. The bassist played into his bin, when not banging his fist against the instrument's body. The guitarist was content to his his chosen noisemaker overhead. For the next track, they channeled countless Euro-pop/English synth dance music, the type of chart topping claptrap that the original thrash movement rebelled against (ENGLISH BEAT/SOFT CELL/Boy George). When they finished a song, there was not a single noise: no sympathetic clap, not even booing, or "You suck!' People were either completely stunned, or simply couldn't care less. Which reminds me. There are too many people content to "watch" concerts while filming it on their cell phone, then posting it or texting to someone about the show. PUT THE DAMN THING DOWN AND GET INTO THE MUSIC! Besides, tomorrow there will be better footage (visually and sonically) than you are capable of capturing anyway.  
0 for 2, might as well check out THY WILL BE DONE, who gave the others a half hour head start. Certainly should win an award for best decorated double kick drums of the weekend. Came on with plenty of stage movement and when stationary, it was heads down, pin-wheeling hair death metal, of the LAMB OF GOD/SKELETONWITCH variety. Despite the racket, unless one was right in front of the Damage Inc stage, the music was drowned out by the schizophrenic choices next door.  
It was getting to be time for GHOST, who somehow were deemed worthy of the main Orion stage. Hetfield, in white Motörhead tee, appeared for an introduction and validation. Apart from Metallica, they were the only other metal act given this courtesy, which is a shame because even with an instrumental interlude and their cover of the BEATLES 'Here Comes The Sun' they could only use up three-quarters of their allotted hour. Guys (or is that ghouls?) you need to get that next album recorded! Not the first time I've seen the Swedes, but this summer the face-masked ghouls and vocalist Papa Emeritus are wearing all white vestments, head-to-toe. The bright sunlight sort of kills the mood and despite all the exaggerated pauses, protracted movements and elongated notes, the giant stage makes it tough to build the same presence as in a club. A good portion of the crowd had no idea what sort of satanic subversion they were witnessing, carefree tapping their toes to the Blue Oyster Cult inspired hard rock melodies. The cameras offered extreme close-ups of Emeritus, the satanic Pope, views typically only visible from the photo pit. In a billowing wind not present the day before, the outfits were blown slightly, as the frontman stood with arms outstretched or in supplication pose. With a growling bass sound, they began. Asked if they were ready to, "Look into the eyes of the prime mover," the less than enthusiastic response prompted the big Papa to joke, "Good enough." In addition to 'Prime Mover' and the aforementioned cover, there was a catchy 'Stand By Him', which turned heavier as the mitre wearing pontiff gingerly strolled down the catwalk, to meet his public (converts?). The repetitive, toe-tapping 'Satan Prayer' surely worked its underhanded magic, most unaware of what they were caught up in. As the band of nameless ghouls jammed, Papa Emeritus stayed almost motionless in the background, but when they finished, he walked next to each musician, silently emploring the crowd to give each a round of applause. They ended with 'The Ritual', the nearly teetering figure in white acknowledging the crowd down front, bowing and blowing kisses, before returning to the back of the stage (behind the musical ghouls), standing still, hands in prayer. Don't know how long they can ride this train (especially moving to a major label deal), but for now it's a fun trip, so hop aboard.  
Blues was coming from the Fuel stage (GARY CLARK, Jr.), while some sort of surf music emanates from beneath the Frantic tent (THE BLACK ANGELS), so after a short chat with Tim Ripper Owens about his many projects, including the nearly completed sophomore BEYOND FEAR album, it was off to Damage, Inc, which had become today's de facto metal stage and a refuge for many. Was able to catch a few songs by the female-fronted Phoenix based death metal quintet LANDMINE MARATHON, who were happy to be there. Robert Trujillo introduced New Orleans' THE SOUL REBELS, a brass band that opened the Fillmore 30th anniversary shows for Metallica. If Wacken can have their fire workers oompah band, why not a brass ensemble that covers 'Enter Sandman'?  
DOMINUS' '96 album The First Nine has always been an obscure favorite of mine. Didn't like anything else the band did, but that one registered. Fast-forward, guitarist/vocalist Michael Poulsen morphs into VOLBEAT, the bastard child of DANZIG meets JOHNNY CASH that's currently taking the world by storm. James Hetfield was there to intro the band. As if to prove the point of comparison, they cover CASH's 'Slow Man's Tongue'. Then again, they also offer up Dusty Springfield's "I Only Want To Be With You'. The crowd was massive in front of the Fuel stage, certainly worthy of main stage (moreso than the country of ERIC CHURCH or a droning, female fronted alternative jangle outfit WEST COAST: think HOLE's 'Doll Parts', without the raunch). At one point Poulsen toyed with the fans, asking what they wanted to hear, breaking into a verse of MOTÖRHEAD's 'Ace Of Spades' before settling on the Slayerish riffs of their own 'Hallelujah Goat'. Later, it was the THIN LIZZY-ish 'Fallen', dedicated to all lost souls. Plenty of melody, good dose of guitar and heaps of fun.  
On competing stages it was CHARRED WALLS OF THE DAMNED, the project founded by Richard Christy (ex-DEATH/ex-ICED EARTH) drummer and Howard Stern sidekick, along with Owens, the well-travelled vocalist, versus SEPULTURA. Knowing Owens long before he came to national prominence, spent most of my time watching the DAMNED (which featured another pair of Ohioans: bassist Ed Stephens and guitarist John Comprix, both of whom played the BW&BK 6-Pack nine years ago) go through 'Manifestations', plus video tracks 'Zerospan' and 'Ghost Town'. Despite the warm weather, Owens wore his usual attire: baseball cap, sun glasses and leather jacket! One of the nicest guys in metal. The Brazilians were a main stage act at last year's Wacken, here, just the third largest of four stages. People were already qeued up for AVENGED SEVENFOLD (who proved last year they can headline their own ampitheaters, even if they needlessly overuse profanity and stole the skull headed bat logo from OVERKILL). Had the Cavalera brothers been onstage, doubt it would have made any difference to this fanbase.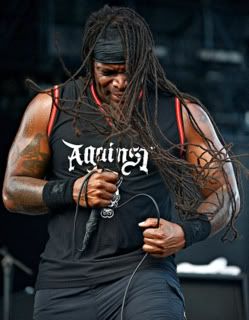 Apparently the magnificent seven are also big fans of the MÖTLEY CRÜE 'Live Wire' video, based on setting things ablaze: amps/backline, two fire plumbs a side, explosions everywhere on the twin-level stage, drummer on the top floor. Opening with 'Nightmare', it was exciting, especially on a day without much onstage action and certainly no props. As the time wore on, 'Beast & The Harlot' stretched things beyond the supposed start of Metallica's 8pm set, some started to get in place for the headliners, but not many. 'A Little Piece Of Heaven' was (sarcastically) described as a "Love story. A guys stabs her 50x, ripped out her heart and did unspeakable things to her corpse." Called on the crowd to consolidate the six circle pits into one big one. The Avengers were certainly trying to upstage their hosts, even using fireworks, off the top of the light rig, however this is the sort of underage draw that can help make Orion a bigger success.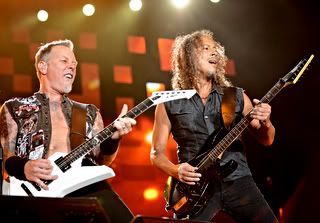 Even though they'd been made to wait a half-hour, it was finally time for Metallica, although at 8:30pm it was still twilight, as opposed to Saturday night's complete darkness. The opening two songs were the same, as was Hetfield's attire. There were still problems with how live shots are displayed onscreen. For instance, when Kirk/James are together onstage trading licks (a rare moment), the jumbotron shows crowd reaction. When Kirk solos, we get footage of Lars? While Hetfield remains in his overhead perch to start, unlike the night before, 'Fuel' is next, much to the enjoyment of younger fans. With Trujillo and Hetfield at the front of the stage, it was another inclusion omitted from the first go round was 'The Shortest Straw' (good crowd sing-along), the last number before they launched into the vaunted Black album. In the early visuals seemed Lars was having more fun. Makes sense, night #2 proves the concept works and they'd conquered the more difficult/long forgotten material, in favor of a set filled with more familiar songs. Again the stage goes blank, but tonight there's a longer, more visually friendly introduction to said album. When he returns Hetfield has again changed to the Black t-shirt, complete with flashback, golden bullet belt that he could only find for the first night's encore. Like Ride The Lightning, this 15x platinum US selling album's running order was delivered backwards. Honestly, the album doesn't hold much significance to me, having by that time moved into harder metal. Besides, I'd already heard the "big songs" the night before. Even though he'd later get a full blown solo, after 'Sad But True', Trujillo shines throughout (but especially at the beginning of) the slower 'My Friend Misery'. Could do without the "Whoa whoa' sing-along though. The staccatto 'Don't Tread On Me' kicked off with snippet of 'America' from West Side Story. For the encore, it was another flame thrower, in the form of 'Blackened', which joins the concluding duo from the night before.     
Final assessment, in gambling parlance, other than Metallica, Saturday was basically a push. Sunday, due to the increased metal content, I came out slightly ahead. Leaving a casino town, after two days, with more than you bargained for, that's a win! Hopefully it was, for all others involved too.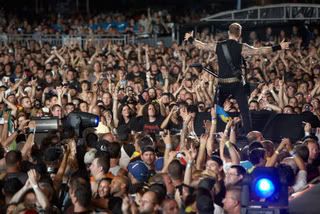 (Stock photos courtesy of OrionMusicAndMore.com)