If ever a band had a reason to cry the blues! Following an amicable split with long-time guitarist, virtuoso and admittedly best known member of the band (at least to casual fans) Luca Turilli, the Italian power metallers were set to move on to the next chapter of their lives, starting the clean slate with a headlining tour of North America. On the precipice of such a major undertaking, the band were informed they'd been dropped from the Nuclear Blast roster. Don't know if the tour's financial support was pulled, or affected in any way, but lack of print/online ads and preventing journalists/photogs free access to the venues, for review purposes, virtually guarantees press coverage will be non-existent. As was merchandise, not a speck of t-shirts, bumpers stickers, CDs. Zip, nada, nothing! So my opportunity to review/photograph the May 25th kick-off date in Philly had to be arranged through founder/keyboardist Alex Staropoli. Just the additional headache he needed days before jumping on a plane, with entourage in tow, for a month-long string of dates. Worse yet, RHAPSODY OF FIRE weren't asked to be part of this weekend's Maryland Deathfest, which I'm sure broke their hearts! Luca who?
This is a different band than just a few years ago, even apart from the line-up changes. Gone are the frilly shirts, goofy haircuts and static stage performances. All in black, apart from Staropoli's standout blond hair and tank top, the more laidback attire (you know the Italian like to rock their fashion) I put down to the years of tutelage under Joey DeMaio's wings (MANOWAR), when the Italians were signed to his Magic Circle label. Granted, Staropoli is tethered to his keyboard, but frontman Fabio Lione has benefited from his time "guesting" in KAMELOT, much more energetic around the stage. Large sections of the set utilize backing vocal tapes and music, as well as glorious voiceovers from actor Christopher Lee, who has narrated RHAPSODY records for more than a decade. Many of this evening's selections were from the older/golden era (on Limb Music, as opposed to those on SPV or Nuclear Blast,).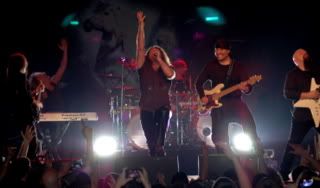 Entering to the grandiose 'Act II: Dark Mystic Vision' intro, it was straight into 'Ad Infinitum', which segues directly to 'From Chaos To Eternity'. There were a few glitches early on, especially Tom Hess' guitar cutting out intermittently, but this is still early in this incarnation's live schedule, so everyone seems to be going out of their way to make an impression in the post-Turilli era. As if checking the sound levels onstage, early on Lione sang with one foot on the monitors, half cocked away from the audience, seemingly looking to Staropoli (located at the back of the stage, next to drummer Alex Holzwarth) for approval/confirmation. Still, lots of motion onstage, keeping the focus on the music throughout 'Triumph Or Agony', then 'Village Of The Dwarves', before Lione took time to address the crowd. They have so many different styles within the power metal umbrella, from lilting, melodies that saw the usual mosh pit kiddies actually kick/skipping across the floor ('March Of The Swordmaster'), the more typical speed metal flavored tracks and even the operatic 'Lamento Eroico'. Must be a law that all Italian singer attempt opera at some point in their careers!
One of those ominous sounding Lee spoken word intros greeted 'The Dark Secret', whereas 'Unholy Warcry' saw the small gathering sing along. Along with 'Land Of Immortals', it was a potent one-two punch in the middle of the set. 'The Magic Of The Wizard's Dream', a Lione/Lee-on-tape classical duet, was introduced by the singer, "Christopher Lee speaks nine languages. When we sang this song, he asked me why we didn't do a version in Russian. What about...?" (He rattles off a list of tongues spoken by the 70s horror actor). "I will try to sing his baritone."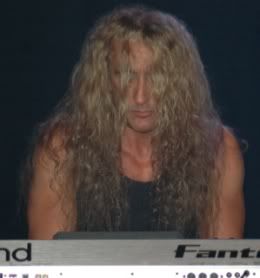 Know it's a big deal overseas, but we'd be better served if the back-to-back drum and bass solos would be ditched, in favor of an additional song. How many times does America get to see RHAPSODY headline? Dig out an old/rare chestnut instead. As it was, Holzwarth's orchestral begun (tympani) solo syncopated headlights flashing at the crowd whenever he struck the big bass toms. Under undulating blue and red lights, the bass solo actually saw people clapping along, so not everyone agrees with my point-of-view (at least then and there, maybe in retrospect?). Thankfully 'Holy Thunderforce' and 'Dawn Of Victory' were already included in this evening.
When the band left the stage, for the first of two encores, the soccer chant "oh-ay, oh-ay, oh-ay, oh-ay" erupted spontaneously. Sort of felt like we weren't in Philly, for a second. Strobes and an instrumental interlude, minus Lione onstage, reintroduce the band to crowd. There was really only one song left unplayed that most (myself included) had come to hear, 'The Emerlad Sword'. Needless to say, we all went away happy!
Hopefully the band felt the same way.
More photos from Philadelphia can be viewed
here
.