"It is the sacred parchment of stupidity," proclaims ZAKK WYLDE in reference to his new book, Bringing Metal To The Children – The Complete Berzerker's Guide To World Tour Domination. Published by William Morrow, this hardcover handbook to lunacy is definitely not your typical rockography. Casual in nature, it's a collection of unbelievably cool, crass and often hilarious stories from throughout Zakk's illustrious career. "When I was doing the book, I made it so you could open it up anywhere and just start reading," reveals Zakk. "You don't have to start at the beginning and read to the end."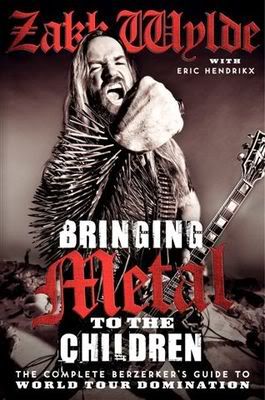 What exactly prompted the former gas station attendant turned OZZY OSBOURNE guitarist turned leader of BLACK LABEL SOCIETY to write a book? "Me and Eric (Hendrikx, co-author) talked about it for a while. It's like us sitting in a pub, me and you just laughing our balls off, talking about ridiculous stories. I always say, what makes the music business so hysterical is if you're a doctor, you've got to have a degree, if you're a welder, you have to have a licence, if you want to be in the entertainment industry – there are no qualifications. If I can juggle chainsaws, I'm in; there's really no rules. When you think about it, like Peter Grant with LED ZEPPELIN, the promoters used to get 90%. Peter Grant said, no, this is the way it's going to be – we get 90 cents and you get a dime. You can take all your piss-ass little bands, and you still won't make anywhere close to what you're going to make getting a dime off a dollar with my band Led Zeppelin. He was just making up the rules as he was going along. It's like, I could say my buddy Aaron is my manager, and they would say does Aaron know anything about contracts? No, but he used to do my pool at my house and it was always clean. That's how the music business rolls – the whole entertainment industry – movies, whatever. That's where you get this cast of characters and tsunami of comedy! Like Seinfeld with the Jerk Store episode – all those stories are real dude, we didn't make them up. Like dumping on the bus – please, you already took Santa and the Easter Bunny from me – please let this exist. Chicks don't do that, please don't squash that dream."
The most common question Zakk gets asked is how to make it in the music industry, a topic he addresses throughout Bringing Metal To The Children. "Back in the day, if you went to Berklee, you could take jazz, you could take rock or classical. You're learning from hanging around all these other insane musicians – but it's all about playing. Almost like high school, you learn how to read and write, add and subtract – basically you've got everything you need, unless you want to be a chemical engineer. The only thing they don't tell you when you graduate is how to apply for credit cards to get credit so you can buy a house eventually someday. Or how to fill out a cheque, things you actually need to know so you don't have to live in your parents' house for the rest of your life. They don't teach you any of it, but you can learn American history and know the names of every President and Vice-President. It's hysterical. With the music business, when I was 17, I would have no idea how to go about booking shows. Yeah I could play all my favourite SABBATH and AC/DC songs, but how am I supposed to make a living doing this? Nowadays over at MI (Musicians Institute), they actually have business classes – the whole nine yards. This way, these kids aren't getting ripped off. Even Ozzy said with Sabbath, they thought the promoters just paid for everything. He thought the promoters must really like us cause we're ordering as much Crown Royal, as much beer, whatever we can get – we don't realize that's coming out of our pay. It's like, we're getting paid $100 to do the show, but we ordered $85 in booze, and we're wondering why we're not making any money?"
Speaking of Ozzy, the Ozzy & Friends European tour dates in May and June, featuring Zakk and BLS will undoubtedly be enjoyed by all who attend, but there's a shadow cast over the proceedings as these dates are in lieu of the Black Sabbath reunion tour that was cancelled due to Tony Iommi's unfortunate battle with lymphoma. "Tony's doing better now, so that's great! He's going to be playing the Donington show (on June 10th). This way he's in town, he can be at home and go for his treatments the next day, as opposed to being on the road. It'd be a pain in the ass trying to find a hospital for him to get the chemo at."
SLASH is playing some of these shows; will Zakk and the former GUNS N' ROSES guitarist jam together on stage? "What happens is Gus G. comes out with Blasko and Tommy (Clufetos) and they throw down a bunch of Randy (Rhoads) and Jake (E. Lee) era stuff. Then Slash comes out with Geezer (Butler) and the guys and they do a bunch of Sabbath. Then I come out, and knock out a bunch more Sabbath stuff, and then we do some from my era with The Boss. After that we have the Oz hoedown at the end where everybody comes out and all just blast into 'Paranoid', exchanging guitar solos. It was cool down at rehearsals the other day with everybody there."
Another monumental event on the horizon is the Marshall 50th Anniversary show, in honour of the late Jim Marshall, set for September 22nd at Wembley in London, England. This once in a lifetime gathering features Zakk alongside: JOE SATRIANI, YNGWIE MALMSTEEN, NICKO MCBRAIN, PAUL GILBERT, COREY TAYLOR, DOUG ALDRICH and TIM "RIPPER" OWENS. "Yeah, without a doubt; this was already planned while he was alive. Obviously everybody's going to be there celebrating his life, it'll be really cool."
Zakk's forthcoming acoustic Unblackened DVD promises to be really cool as well. "After we get done this eight week crusade in Europe, The Mayan Club (in Los Angeles) is booked for late August and we're going to film the DVD there. We're going to set it up where the first 100 seats will be collectible seats, folding chairs you get to take home with you. With the décor of the theater, it's going to be killer." Previous reports indicated that Slash and JERRY CANTRELL would join Zakk on stage that night. "Yeah, it's obviously dependant on everybody's schedules. We're working on that right now." Will the Unblackened DVD be released in 2012 or 2013? "I'm not sure. After we film it, the guy's got to edit it, and then I've got to mix the thing so it comes out slamming. We're going to film rehearsals, so that's going to be included as well."
Never one to sit idle, Zakk is always writing, and shares what the new music he's been creating sounds like. "I've been jamming on acoustic, playing some classical stuff. I've got a couple of heavy riffs, but a lot of it is piano stuff. When you're on the road you're in show mode, but I end up picking up the acoustic, that's where the mellow stuff comes out – waking up early in the morning on the submarine (the tour bus) and everybody's still sleeping. I'll make a cup of coffee and just start jamming."
Refocusing on Bringing Metal To The Children, within the 290 pages, BLS bassist John "JD" DeServio takes a merciless beating courtesy of Zakk, only narrowly avoiding therapy for the abuse endured. After his uncontrollable laughter subsides, Zakk comments, "Well you saw the rebuttal he gave at the end. Oh it's pathetic, but the Tweets were pretty good. What was it? Yes I am absolutely perfect. He goes, 'Yeah, a perfect waste of air and space and time'."
Another constant throughout the book is Zakk's rather graphic detailing of his relationship with his wife Barbaranne, who is referred to as The Warden; many of these specifics wouldn't be publicly shared by normal married couples. Once Zakk gets done laughing, yet again, "Exactly, but the best was at the end with Barb where it goes, I'd like to thank my wife for allowing me to gratify her with 26 years of my greatness and awesomeness and bathing her in conquest. And by the way, if you get done reading this, you can rub my feet again. She read that and said, 'You're an asshole! At least you wrote some nice stuff about the kids.'" But have the kids read the book? "I don't know if they're going to read it. There was one story that happened with our daughter when she was little and me and Barb were going at it, we couldn't even put it in the book cause it was hysterical, but now she's in college. If we put it in there, she'd never hear the end of it, and would be calling me a fucking asshole until the end of time."
Given the fact that Bringing Metal To The Children is selling very well, it presumably will be published in paperback. When that happens, will an extra bonus chapter be tagged onto the end of it? "Either I could do that or record some bonus material and stick it in there. That might be pretty cool."
Order Of The Black and The Song Remains The Same - the last two Black Label Society CDs – were both recorded at Zakk's home studio, The Vatican, a facility Zakk is extremely pleased with. "If I were to never update it, I could make killer records there until the end of time; The Order album proved that. It was recorded and mixed; the only thing I have to do is buy the equipment to master. But it's pointless; the mastering only takes one day and a bunch of the guys I know are amazing at mastering. The whole thing is, let the guys who know what they're doing kill it. But just like everything else, you buy the plug-ins, new software, fidelity-wise if there's any new equipment, just great sounding gear. Like if a new Madden game comes out, there's new features in it. But it's amazing cause when you have certain pieces of gear, it's like a pair of Levis, it never goes out of style. Especially with Pro-Tools, you just upgrade it to get more highs and a tighter bottom; that's the only thing you really need to do."
At the onset of our interview, Zakk was talking about the music business, and the model seems to be changing. DOWN is releasing a series of EPs as opposed to an album; MÖTLEY CRÜE is looking at putting out just a single to support their upcoming tour with KISS. Will BLS continue to release full-lengths? "Yeah, without a doubt because the days of Zeppelin and Sabbath, from the late '60s and early '70s, back then there was eight songs on a record, eight. Nowadays that's an EP. There was big anticipation for a new record, nowadays everything is so fast. Everyone has so much access to everything."
"Dude, I got up there and jammed with Axl and the guys. Literally after we got done playing 'Whole Lotta Rosie', I came off stage, came down the side to talk to one of the guys, and it was already up on Twitter! Somebody in the arena obviously filmed it; it's hysterical man. But bands like Zep or Sabbath would have had to adapt today, you have to, otherwise just like the dinosaurs, you die. But it makes everybody become that much more creative, it really just ups everything. To me, I think it's cool. It would be great if the days of Appetite For Destruction were still around, especially with the newer bands, the baby bands that are coming up because they'll never have that."
"Even with the books now, Barnes And Noble is going out - there's nothing wrong with the computer as long as people are buying it. There's nothing wrong with Amazon, that's where I find all my ROBIN TROWER and FRANK MARINO records, but I'm buying them, so this way Robin Trower's getting paid for it, and all the people who work on those records, the engineers. It's not like I'm stealing the records. That's when it turned into a drag. I remember when the whole Napster thing went down, everyone thought it was great. I said dude, if I see those guys I'm going to break their fucking legs man. It's stealing. My nephew had all his CDs of all his rap music like DMX, PUFF DADDY, but they were all blank CDs. I said what, you don't buy anything? 'No, my buddies have them all.' Why don't you just buy the record dude? It's not like it costs $1200, it's $15. I said you ought to do the whole trifecta, get it over with – you've already stole the record, actually sneak into the concert, and then lean over the counter and steal a t-shirt. Why not? Then you'll see, your favourite bands won't be able to do anything anymore cause they have no money."
In closing, Zakk has good news for his fans north of the 49th parallel. "We're going to be rolling through the Canadian order. After this run, we hit South America, and then we'll do a full run throughout Canada." Those dates have not yet been announced.