Me and CORROSION OF CONFORMITY drummer Reed Mullin, you get us guys together to chat about the band's new album, and you're going to get a conversation that rambles around, meanders back to trivia from time past, shoots the breeze about Vancouver punk rock bands, and ends up back at the band's new self-titled album (their first since '05's In The Arms Of God and the hiatus, line-up changes, and record label moves that followed it), almost as an afterthought.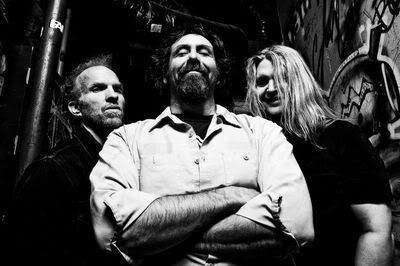 For example, Mullin asks me what my three favourite COC albums are. I tell him Deliverance, Wiseblood and, the black sheep of the COC family, America's Volume Dealer, which surprises and pleases him to no end.
"Oh, no shit?" he says. "What are some of your favourite songs off that?"
I mention deep album cut 'Take What You Want' and he's silent. "What's it called?" he says; the song escapes him. I consider humming the tune to him but, luckily, he remembers in time. I tell him I love 'Who's Got The Fire' and he roars out the chorus to me over a crappy cell phone connection. I tell him his drums sounded really weird on that album. It's a strange conversation. He tells me that sometimes-COC-mainman Pepper Keenan once auditioned to be FAITH NO MORE's vocalist (Mike Patton got the gig) and that COC actually recorded all of Deliverance with Karl Agell, who sang on the band's classic Blind album, on vocals.
Interesting info, all. I'll tuck it away into the recesses of the trivia-filled brain and move on, onwards in the eternally confusing COC story, to the new album, to what amounts to the band's Animosity three-piece lineup back together again, sans Pepper, even though he was the one who got the ball rolling with getting this lineup back together (so confusing, always confusing).
"The coolness of jamming with Mike [Dean, bassist] and Woody [Weatherman, guitarist] again… we first started jamming together in 1982," says Mullin. "And I guess it's been 12 years, dude. And it was automatic. It was about a year and a half ago. Pepper gave us a call out of the blue. The band had pretty much broken up. He gave us a holler and said, 'Hey, I've been doing a bunch of DOWN shows and keep getting all these requests for us to do some reunion festivals.' We thought about it and about a week later and we were like, 'Yeah, what the fuck, man? That's fun. That'd be cool. Let's do it, just for nostalgia's sake, and if it leads to anything else, that'd be even greater.'"
"For whatever reason it didn't work out," he continues. "I guess Pepper got offered more money to do the Down stuff, which was fine. I don't blame the guy; he just had a baby girl. There were no hard feelings. In that week where Woody, myself and Mike had been jamming together, it was so much fucking fun, man. It was even better than when we first started jamming as little kids. You know, we started the band when we were all teenagers; we were all children."
So the trio put together new material that really is somewhere between the simple crossover punk of Animosity and the groove-laden doom-loving southern metal of the band's later era. Throw it all together with a wonderful thick, raw production and you've got one lively, diverse album. But something's missing: a certain charismatic frontman named Pepper. (To clarify, the new album features the band as a three-piece with Mullin, Weatherman, and Dean; Pepper's not officially out of the band but is not playing with them currently.)
"I talked to Pepper yesterday, I think," says Mullin. "We're still really good friends. It was sketchy there for a little while, but everything is wonderful now. I expect us to do something in the future. And to be honest with you, man, this being our thirtieth anniversary—and that makes me sound quite old—I'd really like to do a reunion with Pepper and Karl because I really like that Blind album a lot."
Lots of people like that Blind album a lot, just like lots of other people—a whole different crowd—like that Animosity album a lot, and lots of other people—a whole other crowd again—like that Deliverance album a lot. (And there's one dude out there who likes America's Volume Dealer a lot.) For those that like Animosity a lot, they're getting a chance with this lineup to experience something they may never have been able to experience before.
"A lot of folks never got to hear the Animosity lineup," says Mullin. He stops and realizes something, laughs. "A lot of folks weren't even born then."