The weird thing about 3? It's not their name, and it's not their music—although both of those are indeed really, really odd. It's the fact that The Ghost You Gave To Me is their sixth studio album, yet it's the first time this seasoned banger has ever heard the damn band. I mean, pretty sure their music has crossed my path before but I was unable to give it the attention and time it really deserved.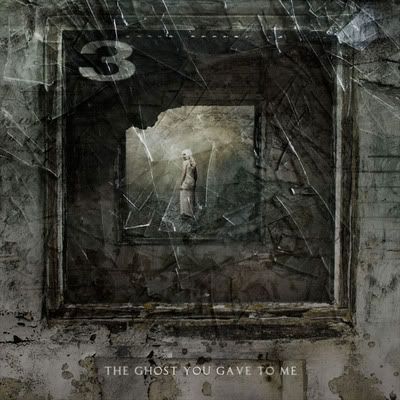 But with the new album, the Woodstock, NY-based band can count one more fan amongst the growing ranks of those who get it. Granted, it took me a while, as their mixture of prog rock, geek indie, and '80s metal is quite a bit to figure out at first. But once I stopped thinking COHEED AND CAMBRIA (more on that later), I learned to love 3. But vocalist/guitarist Joey Eppard said he isn't surprised that the band is still reeling in new listeners.
"Surprised? Not so much," he says. "More like hopeful. I think our music has the potential to connect with a wide variety of listeners. We have a small cult following around the world, but for the most part our band is a bit of a secret. That's part of the challenge when you are carving your own musical path, as opposed to coming up in a specific scene with a momentum all its own."
And 3 are carving their own path indeed, like I say, gaining new fans all the time, but still… this ain't exactly mainstream fare. And on a label like Metal Blade, 3 stick out even amongst their labelmates. Still, Eppard says the amount of people who are digging the band is growing.
"Despite the fact that I started 3 as a sophomore in high school people are still discovering this band every day," he says. "Then we usually get, 'I can't believe I've never heard of you guys before!' Every night we're earning new fans and they're always shocked to discover the depth of our catalogue."
Prog fans may be especially shocked to discover 3. As the playing on the new album proves, the band has chops galore, yet choose to both restrain themselves as well as play with a bit of a raw edge that more clinical prog bands avoid.
"Yeah, we're not one of those icy-cool precision-type prog bands," says Eppard. "There's a lot of fire and raw energy in the way we play. I wanted to capture that on this record without sacrificing the execution. We work hard on our studio albums but we often get the 'you guys are so much better live' compliment, which is great, but it's also frustrating, because we want to be equally as good live or on record. It's a balancing act, for sure; I'm really happy with what we've put forth this time around."
As for the aforementioned Coheed and Cambria comparison, the similarities in sound between the two bands can not be denied, but there's also a closer connection—Eppard's brother Josh played drums in Coheed for a three-album tenure.
"Yeah, we get our share of comparisons," says Eppard. "We do go way back with our friends from Coheed. For a while I was known as "brother of the drummer of" which didn't really bother me, because I know I have what it takes to stand on my own two feet as a musician, and those guys know that too. They used to open for us on the local scene as Shabutie. My brother, and original 3 drummer, Josh joined Coheed and we let them rehearse in our living room every Saturday for a year before they struck out on the road and basically blew up."
"There's no doubt that the bands have influenced each other over the years and there's nothing wrong with that," he continues. "Seeing them literally go from playing in my living room to playing on TV in my living room was enough to inspire me not to give up on this whole music thing. We're due for another tour together so hopefully that'll come to pass at some point in the next year or so."